Jinsop (Joseph) Park, Ph.D.
MSFIN Interim Program Director
Professor of Finance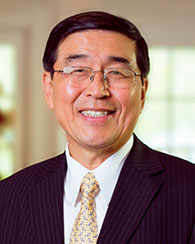 Educational Background
Ph.D., University of California, Berkeley
M.B.A., University of California, Berkeley
B.B.A., Seoul National University
Receiving a call from the Lord to serve in Christian higher education, Dr. Jinsop Park began teaching finance at DBU in 1993. Dr. Park first studied business in his home country of South Korea at Seoul National University, ultimately coming to America to complete an MBA and Ph.D. in Finance at the University of California, Berkeley. He has taught finance both domestically and abroad, lecturing at the University of California, Riverside; California State University, Hayward; Yanbian University of Science and Technology (YUST) in Yanji, China; Pyongyang University of Science and Technology (PUST), in Pyongyang, North Korea; and Lithuania Christian College in Klaipėda, Lithuania. His core areas of teaching include Corporate Financial Management, Investments, and East Asian Financial Markets. He is an avid researcher, focusing mainly on the topics of efficient market hypothesis and capital market anomalies, value of information, and State-Preference Theory.
Dr. Park came to know the Lord through studying the word of God when he first arrived in America. He continues to study the Bible diligently and is passionate about sharing the Gospel with others. Dr. Park is a Bible study leader and deacon at New Song Church and is happily married to his best friend and loving wife Elaine, with whom he enjoys traveling and playing golf. Dr. Park has two children, three grandchildren, and thanks the Lord for the gift of a loving family.