David Arnott, Ph.D.
Professor of Management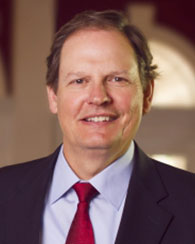 Educational Background
Ph.D., University of Texas, Arlington
M.B.A., Texas A&M University, Commerce
B.A., Greenville College
Dr. Dave Arnott teaches Economics and Management at DBU and has done so since 1993. An award-winning writer, he has authored several books including Corporate Cults, Who MADE My Cheese and co-authored The Leadership Quotient. He currently writes articles for his website www.davearnott.com that examine economics through the lens of Christianity, offering fresh perspectives on capitalism, humanity's fallen nature and greed. He is an accomplished keynote speaker who has appeared on "48 Hours" and other national and local television and radio programs. Writing and speaking on the issues of corporate culture and Christian economics has been a life-long endeavor for Dr. Arnott, and it is a passion he shares with his students in and out of the classroom.
Always in search of his next adventure, Dr. Arnott once rode his bicycle across America and is a retired marathoner. Trading in his bike for a plane ticket, he has now been to over 55 countries, leading study-abroad trips and speaking at management seminars all over the world. With his wife Ginger, Dr. Arnott lives on an 11-acre ranchette south of Dallas, where they board horses and entertain their seven grandchildren.