GSOM August Commissional Corner: Go Now Summer Missionary Jo Allen
August 9, 2023
Written by The Graduate School of Ministry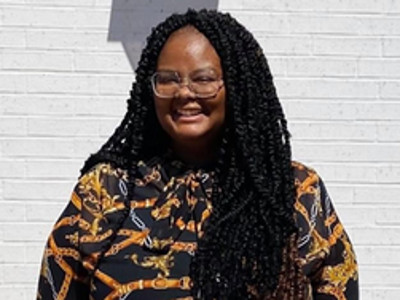 Jo Allen is a student worker in the Baptist Student Ministries office here at DBU. This summer, she joined Texas Baptists Go Now Missions as a summer missionary to Eastern Europe, where she spent 8 weeks spreading the gospel and growing in her walk with the Lord. She has graciously shared her testimony and experience with the MAGL.
Where did you grow up?
I was born and raised in Fort Worth, TX.
How did you come to know Christ?
My late grandmother raised me in church, which helped shape my morals and beliefs. I was sixteen years old when I accepted an altar call on an Easter Sunday to surrender my life to Jesus. I did not fully understand the meaning of salvation, so I did not fully comprehend that I am a sinner in need of a Savior. Many of my questions were left unanswered and I felt entirely alone as I struggled to navigate being a new Christian. So, I went on with my life the way I did before. I attended church strictly out of routine and still felt lost, empty, and hopeless. While I believed I was saved in this moment, I did not feel the impact. I believed that God existed, but I knew so little about Him.
Once I moved away for college, the Lord led me to the BSM, where my beliefs and faith began to grow. I befriended a girl who, six months prior to our meeting, was agnostic. It was evident how much God changed her life by the way she lived for Him. The power in her testimony encouraged me to seek God. The Lord used her and other BSM leaders to disciple and walk alongside me as I spent two years intentionally seeking God for myself. I wrestled with a lot as I studied God's Word and developed an intimate prayer life. This ultimately led to fully understanding the extent of what it means to be a true follower of Jesus. I realized that I am a dying woman living in a broken world in need of a Savior. Learning who God has radically changed everything about my life and who I was. God has called me His, and I am forever grateful that He revealed His truth to me. I realized how much I need Jesus, and I don't want to live my life without him.
What is one word you would describe God in your life?
Divine
Where and how are you currently serving in Go Now Missions?
I spent two months serving in Eastern Europe as a summer intern through a cultural exchange program. I taught English, hosted weekly community events, and built connections with different cultures over coffee, sports, and hiking. By engaging with college students and young adults, I was able to share the gospel and my testimony with many of them.
What lessons have you learned this summer while serving in Go Now Missions?
I learned the importance of endurance and perseverance in the face of difficulty. While serving, it was hard navigating through culture shock, language barriers, uncomfortableness, uncertainty, and feeling unequipped. These challenges tempted me to throw in the towel, but the Lord reminded me so graciously that He not only sent me to Eastern Europe but invited me to join Him in the work He was already doing. Even when I could not feel His presence, I was reminded that I was not alone.
I learned the beauty of relationships! I felt so honored to live in a country for eight weeks far different from my own. Hospitality is important in this culture, so I had to learn how to let others serve me. I experienced honest vulnerability with the locals, and I am so grateful for the opportunity to live life with those I encountered throughout the summer.
I learned to adopt spiritual disciplines in my daily walk. My team went over spiritual disciplines in our weekly meetings and discussed what scripture teaches us about prayer, fasting, confession, studying God's Word, worship, and service. These spiritual disciplines taught me that having a heart posture that truly and wholeheartedly desires to glorify the Lord also grows a deeper love for Christ in my heart.
How has serving in Go Now Missions impacted your worldview and relationship with God/Jesus?
Serving in Eastern Europe has widened my worldview. It has been a joy witnessing God at work in a different culture. I experienced the beauty of grace and witnessed that His love for the world is far greater and more passionate than I ever could have imagined. Prior to this trip, I had a more God-focused mind, but it soon turned into a mind that views God working in immense ways. My appreciation for the gospel grew immensely, and I have grown to appreciate other cultures, too. God is not just the God of DBU or the USA. He is the God who reigns over all the earth, including Eastern Europe!
How does serving in Go Now Missions play into your future profession/ministry?
Serving with Go Now Missions has given me a heart to see the nations come to know Jesus. My experience serving in Eastern Europe revealed the needs and opportunities that are around the world, and that seed has been planted and watered in my heart. It solidifies my call to vocational ministry. This points back to the idea that God invites us to join Him. He doesn't need us, but he desires to have us. It does not matter where I am in the world, I am in the mission field.
What advice you would give to anyone considering joining Go Now Missions?
Put your YES on the table and be confident that the Lord will lead you in a direction that will bless and benefit your life and His Kingdom. It is normal and okay to feel unequipped, unsure, scared, etc. God will not be surprised by those emotions. He wants you to seek Him, not run and hide from Him. Rely on Him. Think about your spiritual gifts and the people group you are passionate about. Prayerfully ask God to show you where He wants you to serve. Let the scriptures be an encouragement to you.
The M.A. in Global Leadership program at DBU is grateful to Jo Allen for sharing her experience serving with Go Now Missions. For more information about Go Now Missions, please visit gonowmissions.com.
---
About The Graduate School of Ministry
The Graduate School of Ministry provides training for individuals who sense God's call to ministry. The mission of the Graduate School of Ministry integrates biblical foundations of Christian faith and values with professional academic studies.
Written by The Graduate School of Ministry
The Graduate School of Ministry provides training for individuals who sense God's call to ministry. The mission of the Graduate School of Ministry integrates foundations of Christian faith and values with professional academic studies.