Summer 2023 Commencement: DBU Awards Honorary Doctorate to Dr. Richard Chang  
August 4, 2023
Written by Dr. Michael Whiting
DBU celebrated 126 new graduates during its Summer Commencement Service at 10:00 a.m. on August 4. The University awarded Dr. Richard Chang the Honorary Doctor of Humanities.
Dr. Richard Chang is a U.S. licensed professional engineer in industry and one of the leading figures in the global semiconductor industry. He has over forty years of experience in semiconductor Research and Development (R&D) and manufacturing. He is also a committed Christian servant leader who demonstrates active love and service to the body of Christ across East Asia. 
Dr. Chang worked at Texas Instrument for over twenty years, establishing and managing over 10 semiconductor R&D and operation facilities all over the world, including factories in the U.S., Japan, Singapore, Italy, and Taiwan. In 1997 Dr. Chang started his entrepreneurial career and founded WSMC in Taiwan. Later in 2000, he extended his business mission to mainland China, in Shanghai. He founded Semiconductor Manufacturing International Corp. (SMIC), which became the largest semiconductor foundry in China. After retiring from SMIC, he established a few companies devoted to providing new energy solutions. Since 2021, Dr. Chang has overseen the start of several semiconductor related companies and continues to serve as consultant in the development of the semiconductor industry in China and around the world.
Dr. Chang also has been an active contributor in various civil and academic organizations. He has been invited to serve as Distinguished Scientist for Doctoral Research Institution of Sino-German Intelligent Technology and Honorary Dean for the School of Micro Nano Technology at Qingdao University. He has received recognitions and honors at all levels, including Excellent Entrepreneurship Award of Overseas Chinese Professionals and Person of the Year – Semiconductor International Magazine. 
Dr. Richard Chang earned his bachelor's degree in mechanical engineering from National Taiwan University, a master of science degree in engineering at State University of New York (SUNY) at Buffalo, and his Ph.D. in electrical engineering from SMU.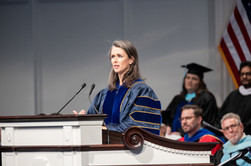 The special address to the summer graduates was given by Dr. Mary Flickner, who graduated with her Ph.D. in Leadership Studies during the service. Dr. Flickner currently serves as the Coordinator of the Developing a Christian Mind (DCM) course required of all undergraduate students. Dr. Flickner is a published author and has given numerous presentations on Christian approaches to worldview learning at DBU faculty workshops and Friday Symposiums hosted by the DBU Honors Program. She is a devoted mentor to students, has served on recruitment panels for the Ph.D. program, and is an active member of the Women's Auxiliary Board. Dr. Flickner also obtained her master of Arts in Christian Education from DBU in 2005. Her husband, Dr. Blake Flickner, serves as DBU's Head Basketball Coach.
Written by Dr. Michael Whiting
Dr. Michael Whiting is the Director of Written Content in University Communications at Dallas Baptist University.