A Pastor to Generations: Alumnus Jordan McKinney
Jordan McKinney's heart for the church of this generation mirrors his own journey into pastoral ministry. There are reasons to grieve but within these are opportunities of hope in God's redeeming grace, which includes being chosen and sent as His Kingdom vessels and co-laborers.
Jordan was raised in small town Paris, Texas, and grew up attending First Baptist where his grandad became pastor following a difficult time for the church. His mother was the spiritual rock of the family, especially after Jordan's father abandoned them when Jordan was just six years old. As if this pain was not enough, it was amplified by a church culture that was unsure how to walk with families suffering through the devastation of divorce, but Jordan's mother encouraged Jordan and his siblings to press past feelings of shame to find their identity as beloved children of God.
Throughout his childhood, Jordan's mother exemplified generosity and service to others and was always diligent in discipling her children in the Word. "Everything went back to Scripture," he says. "It was like she had put on glasses - like the left eye was the Old Testament and the right eye was the New Testament."
Jordan also witnessed in his grandad a heart for pastoral ministry and the centrality of the Gospel, and even more than that, "he became a father to me. He taught me how to fish, he taught me how to change a tire, and he taught me how to tie a tie. All the things that a Dad does for a son, he did those things for me."
However, there were obstacles in Jordan's youth that needed overcoming before he was ready to embrace the Lord's calling to pastoral ministry. "I didn't want to go into ministry, because I didn't want to be poor, and I didn't like people being mean to me," he jokes. "Money was a god to me, basketball was a god to me, and even girls were a god to me," he says more seriously. "I just thought, well, no great woman is going to want to marry a poor pastor."
It was on the campus of DBU and through the personal investment of leaders such as Chris Holloway, Trustee Dr. Herb Peterson, and then President Dr. Gary Cook, that Jordan's calling to ministry began to surface and take shape. "DBU was as much of an impact on my life as my mom and grandfather," he says. Dr. Dan Gibson (who now serves as Vice President of Graduate Affairs and Information Technology), was also working at DBU at the time, and Jordan's admiration for his older brother-in-law grew through these years as their relationship deepened.
On one seemingly ordinary day, while working as a student worker in Advancement during Dr. Adam Wright's tenure as Vice President, Jordan's spiritual path dramatically shifted. A colleague by the name of Blair Robinson approached Jordan and asked him point-blank to define the Gospel and explain how it impacted his life. Jordan was taken aback by this out-of-left-field question during business hours, but it set him on a path to pondering how he had grown since giving his life to Christ.
"I think I had grown in how to hide my sins and how to hide who I really am, but I hadn't grown – not just in my doctrine but in relationships." Jordan began to feel the Spirit's persistent nudging toward pastoral ministry and shared this awakening with his granddad, who helped Jordan move through some of the personal shame and guilt that were weighing him down with feelings of unworthiness. Jordan became so emboldened in his renewed sight of the Gospel that he began the practice of sharing his faith everywhere and with everyone he could, whether in coffee shops or at Applebee's.
At the invitation of Dr. Gary Cook, Jordan preached his first message ever at a DBU Chapel service, and from there Jordan's calling took off. "I said yes to everything, and it was just confirmation that it really was a call. I couldn't imagine not doing this for the rest of my life." Within the same year, Jordan traveled miles of highways throughout North Texas, serving as chaplain at a senior assisted living facility, working as an intern at the Village Church, and speaking to a college ministry in East Texas on Sunday evenings. These experiences also trained him in the importance of connecting with different generations. "I really believe that God makes disciples and has called us to make disciples of all nations, and that includes all generations. The Lord showed me, 'I care about all of these people groups, and I need you to care about all these generations too'—and I did."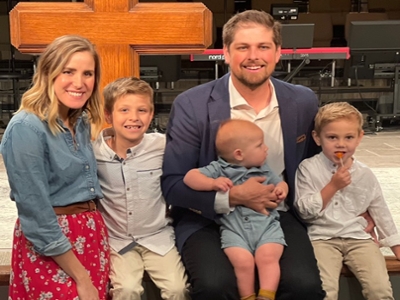 After graduating from DBU, Jordan was called to serve as a youth pastor in a small "one stoplight" town, where he learned to have eyes to see the Kingdom call of the Church to be in and for its city. From there he was invited to join Highland Baptist Church in Waco as youth pastor, a church that had nearly doubled in size under the leadership of Pastor John Durham. Then, after eight years in Waco, Jordan responded to a call to the city of Cedar Hill and the congregation of Hillcrest Baptist Church, a multi-generational church with a substantial senior adult membership. As Senior Associate Pastor, Jordan leads the ministerial staff and the congregation in executing the vision of Hillcrest to expand the Kingdom.
As Jordan reflects on the challenges facing his providential call to pastoral leadership in this particular generation, Jordan expresses both concern and anticipation. "The generation of the church right now is deciding the next 200 years of church history, and that's sobering," he says. "The things that concern me are the places that we compromise. I think churches, somewhere along the way, thought, 'We've got to look so much like the world.' We're not a strange and peculiar people anymore. It's like, 'Well you're just like me, but you're busy on Sunday morning?'"
Jordan also laments over the deepening divisions amongst Christians in recent years. "There's a generation that is deepening the divisions at all cost, even at the cost of their own witness. The lost and dying culture around us sees that and they don't want any part of that, especially my generation. Gen Z and Millennials don't want any part of that. Of course they don't, because that's not attractive in the slightest, and if we're not attractive, then why do you think they're going to come for your cool band with skinny jeans? You don't have to go to church to hear good music, and you can listen to a podcast if you need a spiritual guru. So, guruism isn't going to work, celebrity pastors aren't going to work, and deepening divisions is not going to work."
At the same time, Jordan faces the future with hope in the midst of these concerns that God is able to redeem them. "I think we're moving into an era where we're similar to the early church, where evangelism is less of a program, and is more of a culture that's integrated into all that we are. It's more about expressing the heart of God than competing with the cool church up the road or having the best of what used to be before that, like the best Christmas program. I really think the death of those things is going to be the birth of something much more beautiful and exciting, and I love to be on the forefront of that."
Even despite the divisions, Jordan can see God doing great things, just as He did in the Church's historical infancy. "There are always going to be issues of disagreement that we have to work through. I mean, read First or Second Corinthians. That is the early Church. They were wrestling through the same things we're wrestling through. Yet, one of the best apologetics for the Church – for Christ actually resurrecting – is the birth of the Church. And, along with the birth of the Church came explosive grassroots growth, because another great apologetic for the resurrection of Jesus is the true witness of Christians in the midst of difficulty."
Jordan has learned as a husband and father that Kingdom ministry begins first in the home with his own family. He met wife Paytyn while a student at DBU, and the two have three children. Having their first two kids within five years, however, was not their original plan, and the first years of marriage were marked by strain in the relationship. "Through that season of difficulty, the Lord just made us fall so deeply in love with Him and each other. What got us through was our covenant, and then it was happiness. We made it through that, and I'm just so grateful for Paytyn's patience with me."
Paytyn is a gifted pastor's wife and mother to their children, and as Jordan's co-laborer she is not afraid to hold him accountable to the priority of his ministry to their family. "I never want to be that dad whose kids say, 'Yeah, I get those people were important, but those people were more important than your own children.' The kingdom is in your midst. And if it's not that way as soon as you wake up in the morning with your family, then you've missed a message of what the Kingdom and what Kingdom culture really is."
Written by Dr. Michael Whiting
Dr. Michael Whiting is the Director of Written Content in University Communications at Dallas Baptist University.