Tech Talk: Artificial Intelligence
The future of Artificial intelligence is here. Once the imaginary scenario of science fiction movies, the use of AI programs is becoming more ubiquitous every day, not only in banking systems, automobile driving, and video gaming, but now in newer programs that respond swiftly and effortlessly to human prompts in graphic design, advertising, copywriting, research, and even songwriting and facial/vocal editing.
At a recent Tech Talk hosted by the DBU Graduate School and the MS in Information Technology and Management program, visiting expert Dr. Kyle Roberts, Client Success Leader at Resultant, was invited to weigh in with timely insights on the recent trajectory of AI along with the challenges and opportunities it poses for Christians today.
Roberts defined Artificial Intelligence as encompassing a broad range of "techniques and approaches that enable machines to perform tasks that typically require human intelligence, such as understanding natural language, recognizing images, and making decisions."
Roberts said that building AI systems and writing code is not difficult to do and new webpages are being created every day. However, very few AI systems are doing it well, and the quality of data mined at lightning speed from the internet still needs to be discerned.
Roberts identified the most promising career opportunities for AI developers in the fields of fraud detection, cyber security auditing, and student learning modules. AI, like any technology, is sure to cause disruption to the marketplace, and higher education is currently addressing challenges to academic integrity (including software that detects the use of AI in student writing), but Roberts says it would be irresponsible to adopt the alarmed "ostrich" stance by burying our heads in the sand.
Referring to 2 Kings 4:38-41 allegorically, Roberts says that there are many "chefs" who are adding to the pot of stew in a way that is harmful, but what the technology needs is Christians like Elijah who are present to add the cleansing ingredient. As AI is growing on the web at a frenetic pace, Christians will need to stay informed and earn their place at the tech table before they can offer ethical guidance about how to use AI responsibly. He also reminded Christians not to attach despair or hope to the warnings or promises of AI, but that our relationship with the Lord is always our most essential and valuable connection.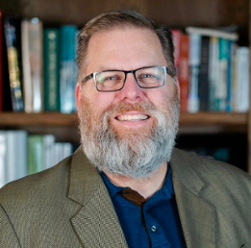 Kyle Roberts is Data Scientist and Client Success Leader at Resultant. He earned his Ph.D. in Educational Psychology from Texas A&M University and served as an associate professor of teaching and learning and as fellow of the Institute for Reading Research in the Annette Caldwell Simmons School of Education and Human Development at SMU. Before joining the SMU faculty, he was an assistant professor at Baylor College of Medicine. During his tenure at BCM, he was the assistant director for research in the Center for Education Outreach and the research coordinator on several grants from the National Institutes of Health, the National Science Foundation, the Howard Hughes Medical Institute, the National Space Biomedical Research Institute, and the U.S. Department of Education. Dr. Roberts has conducted numerous training sessions at annual meetings of the American Psychological Association, the American Educational Research Association, and the Southwest Educational Research Association. He is the author of multiple book chapters and articles.
Written by Dr. Michael Whiting
Dr. Michael Whiting is the Director of Written Content in University Communications at Dallas Baptist University.