Honorary Doctorates Awarded During Spring Commencement Services
June 1, 2023
Written by University Communications
DBU honored three outstanding individuals with honorary doctorates during Spring Commencement Services held on May 11 and 12, 2023. 
Mark Lanier, who received an honorary Doctor of Humanities degree during the 10:00 a.m. service, is recognized as one of the top civil trial lawyers in America and is featured in top news publications, including The Wall Street Journal, The New York Times, the Los Angeles Times, The Boston Globe, and others. He is a frequent guest on broadcast and cable networks and has served as a featured lecturer at Harvard Law School, Stanford Law School, Pepperdine University School of Law, University of Chicago Law School, and Texas Tech University School of Law. He is the founder of the Christian Trial Lawyers Association, the Lanier Theological Library, and is the author of several Christian thought and devotional books, including Christianity on Trial, Psalms for Living: Daily Prayers, Wisdom, and Guidance, and Torah for Living. 
Kristyn Getty received an honorary Doctor of Humanities degree during the 3:00p.m. service. She is a GRAMMY®-nominated recording artist from Northern Ireland whose voice is synonymous with modern hymns. Kristy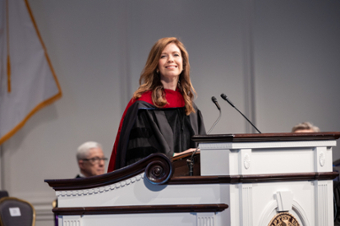 n with her husband, Keith, have shared their faith through music at annual Christmas shows at Carnegie Hall and the Kennedy Center and in special performances for Presidents, Prime Ministers, the Houses of Parliament. They are co-founders of the Sing! Conference, which welcomes thousands to Nashville each September along with a global online audience. Kristyn is the creator of the GMA-award-winning Getty Kids Hymnal and has recorded the entire ESV Bible as an audio version for Crossway. She has received one GRAMMY ® nomination, one mainstream Billboard #1, two GMA awards, and two nominations for ECPA Book of the Year, and is an Honorary Fellow of the Royal School of Church Music.
Pastor Oscar D. Epps, Sr., was awarded the honorary Doctor of Divinity degree. Pastor Epps is founding Senior Pastor of Community Missionary Baptist Church of Desoto, Texas, established in 1993. An alumnus of DBU, Pastor Eppshas led in the planting of five additional churches throughout the DFW Metroplex, includingmost recently the CMBC Cedar Hill campus. He has also served hundreds of churches and pastoral leadersas past President of the BGCT African American Fellowship and service as Moderator for the Dallas Baptist Association. In 2021, in recognition of his outstanding servant leadership in the local church and to the surrounding communities of DeSoto and Cedar Hill, DBU honored Pastor Epps with the Good Samaritan Award. 
---
About Dallas Baptist University
Dallas Baptist University seeks to provide Christ-centered education to prepare and spur on students to pursue their calling. As with any mission statement, it takes a team of dedicated workers to bring the vision of an organization to life. At DBU, our professors, faculty, and staff play an integral role in providing the holistic education promised within our mission statement.
Written by University Communications