A Deeply-Rooted Legacy: Ryan Wilson's Journey to University Hill
DBU is in the blood of freshman Ryan Wilson. His grandmother came to the school, as did both of his parents, and his older sister is a current student as well. There simply has not been a time in his life when DBU was not in the picture.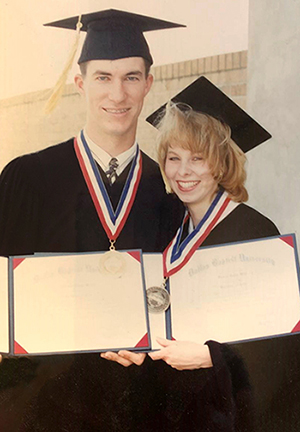 "When I was about eight or nine years old, I went to a DBU homecoming basketball game with my family," Ryan recalls. "Then, when I was eleven, my dad, brothers, and some of our friends took a trip to see DBU baseball compete on the road in a weekend series. Though it was never intentional," continued Ryan, "DBU always found a way to make an occasional cameo appearance in my day-to-day life."
As high school graduation approached, Ryan began to settle on his college choice. Once again, DBU was at the front of his mind. "When I was a junior, I began following the DBU baseball program," he explained. "I watched as many of their games as I could, primarily through the Patriot Broadcasting Network." Being enthralled with the DBU baseball program, Ryan's dream of merging his giftings in math with his love of sports finally seemed like a possibility. Soon after, Ryan committed to DBU, eager for the season ahead!
As Ryan nears the completion of his first semester DBU, he has been impacted in ways he did not expect. "I had the unique opportunity to come to DBU one month earlier than everyone else in order to start working at a job on campus," he says. "Because of this, the first people I met on campus were my co-workers. They have been nothing short of helpful, patient, and kind." Along with his encouraging start to college, he has also plugged in to his major and has been able to pair it with his passion. "I am a mathematics major with aspirations of becoming a sports statistician or a sports commentator. DBU offered me avenues to pursue either careers, whatever I choose."
Though Ryan's college choice might have seemed as if it had already been picked for him, the Lord provided him more and more assurance about his decision every step of the way. Life on the hill has just begun for Ryan, but it seems as if his roots have been here the whole time.
Written by Anna Catherine Bradley
Anna Catherine Bradley is a member of University Communications at Dallas Baptist University.