Along the Scarlett Road
Celebrating the Life of Scarlett Kay Raymond and her Two Remarkable Parents
"We know that the reality is that Scarlett's brain has been severely damaged…We know that the reality is that Scarlett is very sick. We know that the reality is, she shouldn't be on earth much longer. But, we also know that God is able to heal. We know that God is the Great Physician. We know that God is powerful and able to do all things. We know that nothing is impossible for God."
-Haley Raymond, DBU Alumna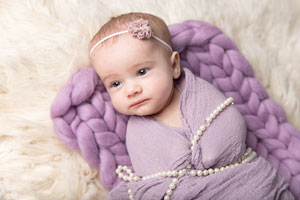 Most people struggle to understand the truth of the latter even without the reality of the former. Hardship and earthly turmoil can often make it difficult to stand confidently in an understanding of God's sovereignty and power. Yet Haley and Seth Raymond, dear friends of mine for the past several years, continue to proclaim the good news of the gospel in the midst of tragic circumstances.
Seth and Haley met at DBU. They fell in love, got married, and looked forward to an amazing adventure together, especially when they found out they were pregnant with their first child, a beautiful daughter. Scarlett Kay was born March 4, 2018, and the couple began to dream about her amazing life that lay ahead. Yet, early on, Scarlett became very ill as E. Coli bacterial meningitis spread to her brain causing hydrocephalus, ventriculitis, a large stroke, seizures, and global brain damage.
Given the diagnosis, they knew that their time with Scarlett would be brief. Instead of giving in to anger or fear, the two began to dream about how to best celebrate this sweet girl's life for the foreseeable future. Their solution, a Scarlett Bucket List. From a Ranger's Game, to a trip to Waco's Magnolia Market, or spending a night at the Omni, and even ringing the DBU Liberty Bell as a little Patriot.
When they made the list public on Facebook, the response was amazing! Their trip to see the Rangers was especially memorable as Scarlett received the Ranger's Fan of the Game recognition, and she was on TV with mom and dad, interviewed by Emily Jones and able to share their story with the world.
The story of this bucket list is an amazing read, and Haley has cataloged it all on her blog, Even So, It Is Well, where they explain not only the trial, but also the joy of being Scarlett's parents.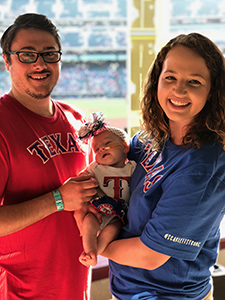 Certainly, despair and fear would be considered a natural and rational response. But not to Seth and Haley. Instead they have responded with a steadfast faith that is difficult for me to even put into words. Observing their reaction is hard to articulate because it seems so counterintuitive. It's not natural. In fact, it's supernatural. Despite the unknowns, and very difficult knowns, they have continued to trust God.
Even before Scarlett was born, my wife and I had the privilege of being friends with Seth and Haley and spending countless hours with them, sharing special memories from dinners and game nights. Through it all, we had a special opportunity to experience the character and faithfulness of this incredible couple. We observed a man deeply passionate about ministering to youth as a full-time vocation, and we witnessed a woman who is an amazing and compassionate elementary teacher.
These individuals always seemed to carry an unwavering faith in Christ, but through Scarlett's struggles, their steadfastness has been magnified. Like many of us at DBU, I have come to a more complete understanding of Christ through their testimony these past two months.
Their reaction to Scarlett's condition is best summed up in a quote from Haley's blog; "What we do know is that God is in control. God has a plan. This may not be the life we expected, but God can still use this terrible situation for His good. In fact, He already has in many ways. Her life has already brought so much glory to God."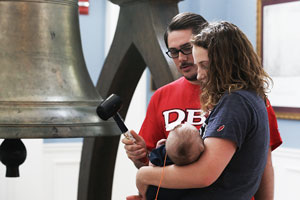 Seth and Haley continue to prove that the truth found in Deuteronomy 31:6 is trustworthy. "Be strong and courageous. Do not be afraid or terrified…for the Lord your God goes with you; he will never leave you or forsake you."
They have allowed Scarlett's story to tell of hope found in Christ even in the most difficult circumstances. Their celebration of the life of their beautiful daughter continually speaks to power of Christ, redemption made possible because of His sacrifice on the cross, and His promise to restore this broken world. That is no shallow testimony.
Scarlett's story has reached over 60 countries. Through social media, thousands of people have heard Scarlett's story. Where Scarlett's story is heard, the gospel is heard.
I have witnessed Haley and Seth make impossible decisions with the utmost peace, grace, and trust in God. I have watched Seth continually allow Christ's strength and love to guide him in supporting and leading his family (Ps. 46:1-3). I have witnessed Haley, both a wife and mother, imitate Christ's strength and wisdom (Prov. 31:25-30).
I have watched this couple turn bad to good and proclaim Christ with everything in them. In return, I have watched the Lord faithfully comfort and support his children.
The DBU family is committed to praying for the Raymonds, are encouraged by their testimony, and are so grateful for the opportunity to celebrate the life of Scarlett Kay Raymond.
Written by Caleb Long
Caleb serves as the Graphic Designer for Marketing in the University Communications division at DBU.