New DBU Coffeehouse Draws Crowd
February 5, 2018
Written by Courtney Smith
Dallas, TX – Whether studying, reading, or catching up with friends, college students can often be found with a cup of coffee in hand. Now, DBU students have new on-campus options for purchasing and enjoying a great cup of joe!
Adding to the wonderful renovations and additions that have recently been made on campus, specifically in the The Union with the addition of MOOYAH and the remodel of the surrounding area, the DBU Coffeehouse opened on January 17th to welcome students back for Spring classes.
In partnership with Sodexo, the Coffeehouse is managed by DBU alumna, Cassie Kelemen, and is staffed by current students. Featuring Edison Coffee Co. as the house roaster, students have a variety of drink options to choose from, including classic coffee iterations like cappuccinos and espressos, to specialty drinks whose names echo the American presidential theme that has become a staple in The Union.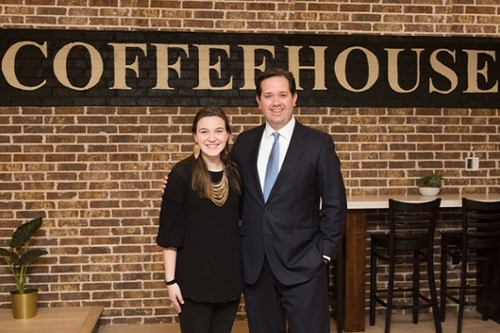 The drinks are not the only things drawing students to the new Coffeehouse, however. The space itself was strategically designed and decorated to be a multi-purpose area for the DBU Family. Aspects of the design mirror popular coffee shop atmospheres across the nation, providing cozy areas for fellowship and community to flourish. Additionally, two study rooms adjacent to the coffee bar are equipped with whiteboards and high-top desks perfect for collaboration, with a myriad of additional tables well-suited for group or individual study. Live music will also be a distinctive feature of the Coffeehouse, with a corner stage and studio-quality sound and lighting offering a unique platform for aspiring and established musicians alike.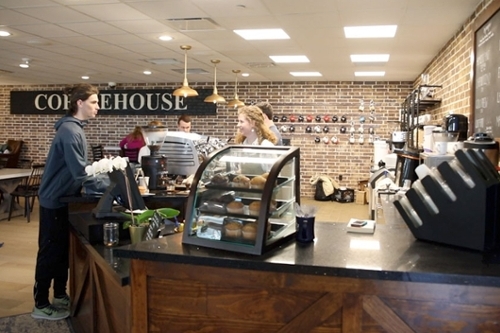 "We are very excited for this new retail concept on campus," said Jonathan Teat, Vice President for Administrative Affairs at DBU. "We are prayerful that The Union, with all its features, will continue to provide countless opportunities for our university family to fellowship, study, disciple, and grow together in faithful obedience to glorify God through our lives both individually and collectively."
Edison Coffee Co. is an intentional business with a mission to glorify God through the way it operates. Edison Coffee has on-site personal relationships with coffee farmers at the farms they work with to ensure the product is ethically sourced. DBU is proud to support their intentional effort by purchasing their beans and producing excellent, hand crafted cups of coffee for our students, staff, and faculty.
Written by Courtney Smith
Courtney Smith is a freelance content writer for University Communications at Dallas Baptist University.