DBU Hosts Inaugural Veritas Lecture Series
February 6, 2018
Written by Helen Schlenker
Photos by: Efrain Carbajal and Taggert Corn
Dallas, TX – Dallas Baptist University hosted Dr. Marcus Goodie Goodloe at the Inaugural Veritas Lecture Series. DBU launched a new lecture series called Veritas: Truth that Transforms. The series allows engaging speakers from a variety of contexts to challenge DBU students in how to use their Christian faith to transform the world.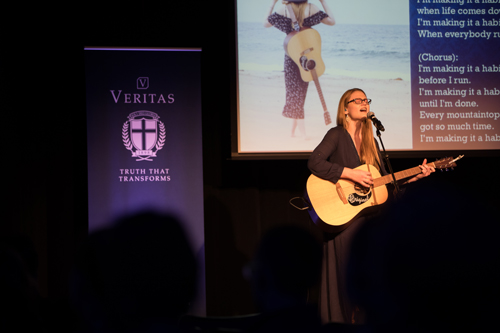 Dr. Goodie Goodloe was born and raised in Compton, California. After attending the University of New Mexico on a football scholarship, he attended Golden Gate Theological Seminary to train as a pastor. Continuing his education, Dr. Goodloe also completed a doctoral degree from DBU in Leadership and Social Movement Theory. Along with being a pastor, Dr. Goodloe has been an adjunct professor at DBU for the past several years. He has also written two books, King Maker and Habits: Six Steps to the Art of Influence.
The lecture began with remarks from DBU President Dr. Adam C. Wright. Prior to the lecture, singer songwriter Kendall Renee shared some of her music with the audience. She recently wrote "Habit" based off of Dr. Goodloe's book.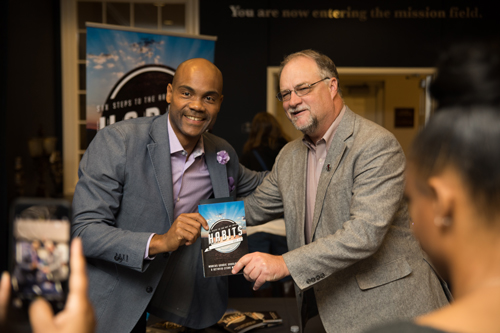 Dr. Goodloe's presentation was centered on the importance of forming transformational habits that influence every area of life.
"Unsurprisingly, Dr. Goodloe gave a compelling and passionate talk about leadership habits that anyone can apply in their lives," remarked Lee Bratcher, Director of the Master of Arts in International Studies and coordinator of the series. "What better way to begin the Veritas speaker series than with a man of solid Christian character and far reaching influence who speaks across the country on Christian leadership."
Dr. Goodloe currently resides in the Los Angeles area with his wife, Lucy, and their two children, Hannah Marie and Joshua C.H. He serves as the associate teaching pastor at Parkcrest Christian Church.
Written by Helen Schlenker
Helen Schlenker is a member of University Communications at Dallas Baptist University.