DBU Students Build Relationships in Israel
August 9, 2017
Written by Courtney Hackett
Dallas, TX – For the sixth consecutive year, Dallas Baptist University sent a group of students to Israel for experiences touring and learning, as well as opportunities to serve.
Led by Dr. Jay Harley, DBU Vice President for Student Affairs, along with Dr. Brent Thomason, Assistant Professor of Biblical Studies and Director of the Master of Arts in International Studies program, the group toured the Holy Land, walking in the footsteps of the earliest heroes of the faith and experiencing firsthand many of the places where Jesus himself once lived and taught.
Compiled of 20 students who chose either a business or religion course, the group spent their first week visiting a myriad of sites all around the country, primarily in Jerusalem, Nazareth, and the surrounding areas.
For their second week abroad, the team split into two smaller groups based their course distinction. For the first time since DBU has sent groups to Israel, the business students led by Dr. Ross O'Brien, Professor of Management and Director of the Center for Business as Mission, had the chance to meet with a variety of business leaders in Nazareth. Through discussions with executives who are believers as well as those of other faiths, the students experienced a taste of building business relationships, particularly in an international context. They also gained a deeper understanding of the differences in business practices between the United States and Israel, and perhaps most importantly, witnessed faithful Christ-followers using commerce as a tool for Gospel proclamation and Kingdom impact.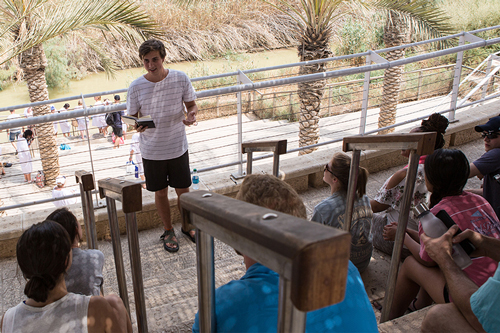 While Dr. O'Brien's team experienced business in Nazareth, the second team traveled to Tel Aviv to serve with Nazareth Baptist School as they held the first session of their 3 week summer camp program at The Potter's Wheel Camp. DBU has partnered with Nazareth Baptist School in a variety of ways since 2012, most recently traveling to camp with them for the past few years. While the majority of their time was spent leading games and serving in the dining hall, the most impactful aspect of the experience was forging relationships with the college camp counselors and being a source of mutual encouragement in the faith.
"We are so blessed to be able to partner with Nazareth Baptist School," remarked Dr. Harley. "This relationship gives us a unique opportunity to send students to explore Israel and serve our brothers and sisters across the world."
Written by Courtney Hackett
Courtney Hackett (Smith) served as the Assistant to the Vice President for Communications in the University Communications division at DBU.