DBU Honors Taiwan Christian Educator during Summer Commencement Service
August 8, 2017
Written by Dr. Blake Killingsworth
Dallas, TX – Dallas Baptist University awarded 224 degrees during its Summer Commencement Services, held on Friday, August 4, in the Patty and Bo Pilgrim Chapel on DBU's campus.
During the Friday service, DBU honored Dr. Samuel K. C. Chang, president of Chung Yuan Christian University, with an honorary Doctor of Divinity degree. David Cook, Assistant to the President for Legal and External Affairs and Assistant Professor of Leadership at DBU, served as the keynote speaker.
A native of Taiwan, Dr. Samuel K. C. Chang began his work on college campuses as an undergraduate student, studying the science of meteorology at National Taiwan University, and shortly thereafter headed to the United States to complete a series of degrees at the State University of New York: an M.S. in Atmospheric Studies, an MBA in Management Information Systems, and a Ph.D. in Atmospheric Studies. During his final two years of study at SUNY, he taught as an instructor in their Mathematics Department, a position that naturally fit his gifting and desire to help others.
In 1981, he returned home and began teaching atmospheric sciences at National Taiwan University, as well as teaching in the Business Administration department at Chung Yuan Christian University, a relationship that would soon define his legacy as an educator. Over the next ten years, he served in various roles at Chung Yuan Christian University, including Dean of the College of Business, Director of the Center of General Education, and eventually President.
For nine years, he led CYCU, helping to establish their mission of providing a holistic education for their students. This philosophy of education propelled the institution to move beyond just the exploration of knowledge or technology to engage students on a journey of self-discovery and meaning. Dr. Chang's vision to establish this Christian mindset on the campus took root and became the driving force of the school.
In 2001, Dr. Chang left CYCU to serve as a visiting professor at the University of Hawaii, and the following year, he returned to Taiwan, where he served as President of Ming Hsin University of Science and Technology for four years and President of Shih Chien University for two years. In 2008, he left higher education for a season to work as President of the Commerce Development Research Institute in Taiwan, as well as the Executive Director of the Taiwan Power Company. The mission of CYCU, however, drew him back, and in 2012, he returned to the campus to serve as Interim President until being named President the following year.
Over the course of his tenure as head of CYCU, the University has received numerous awards and accolades, and was ranked first among Taiwan's private comprehensive universities from 2014-2016. From 2013-2017, the school set a new record by receiving the largest annual operations funding available to private universities from the government's Ministry of Education. CYCU also was named the top service-learning campus among all universities and colleges in Taiwan in 2014. Today, the school offers 38 post graduate programs and 13 Ph.D. programs, with more than 120,000 alumni serving around the world.
"Dr. Chang's life is a shining example of what it means to love the Lord your God with all of your heart, soul, strength, and mind, as well as a testimony to loving your neighbor as yourself," explained Dr. Adam C. Wright, DBU President. "We are so pleased to be able to honor him for his years of tireless service to our Lord through the world of Christian higher education."
David Cook, the commencement speaker for the service, joined the faculty of DBU in 2014 as an Assistant Professor of Leadership and Program Director for DBU's Master of Arts in Leadership program, helping to establish DBU's first master's program in leadership and coordinate various travel study trips. He has taught a number of leadership courses and works with various students who are contemplating future graduate work in leadership studies, as well as law school. In the summer of 2016, he was tasked with helping to coordinate a group of on-campus lawyers to handle the legal affairs of the University, a role that was recently expanded to his current title as Assistant to the President for Legal and External Affairs.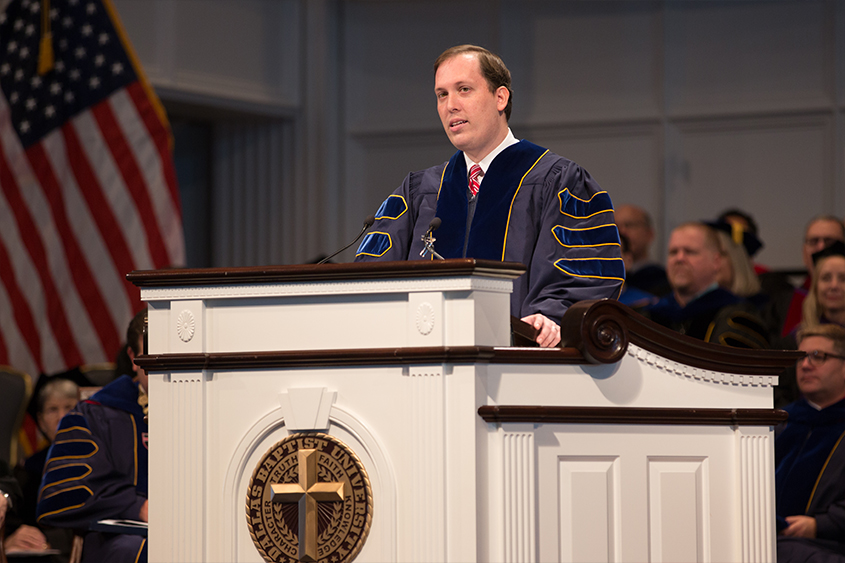 DBU has been a part of David's life from his childhood. His father, Dr. Gary Cook, served as President of the school from 1988 to 2016, and over the course of that time, David was able to see first-hand how God used faculty, staff, and administrators to pour into the lives of thousands of students. Along the way, he felt a strong calling to a career in Christian higher education as a means to help shape the minds and hearts of students for Christ.
David attended Baylor University for his undergraduate degree and later completed his J.D. at SMU's Dedman School of Law. For seven years, he practiced law in the Richardson area, including several years as a partner at Cook & Gore, PLLC, which he co-founded with another Christian lawyer.
Sensing a call back to higher education, David enrolled in DBU's Ph.D. in Leadership Studies program, in order to study the impact of leadership in organizations, both nationally and globally. His research interest focused especially on the intersection of faith and trials within the life of leaders, and this summer, he defended his dissertation that focused on the use of adversity as it shaped various leaders. He received his Ph.D. during the service.
David is married to Nicole Cook, also a DBU alumni, and they live in Duncanville, Texas, with their three children, Molly, Caleb, and Grace. They are active members of First Baptist Church of Duncanville, where they are both involved in a variety of ministries.
Written by Dr. Blake Killingsworth
Dr. Blake Killingsworth is the Vice President for Communications at Dallas Baptist University.