The Global Community
Dallas Baptist University's Global Community is a network of like-minded international schools that together are striving to produce the next generation of leaders. The world is in desperate need of leaders who seek to serve rather than be served, whose love for their fellow man compels them to build their communities and make the world a better place. The lack of leaders worldwide has confronted us, and we have sensed a compelling call to serve as a connector amongst our like-minded partners to empower those around the world. We know with unity comes strength, so as a University, we launched the Global Community to engage, equip, and empower our partner institutions through educational resources and leadership training. Through membership in our consortium, your institution will have access to many resources and join a global network of schools!
BECOME A

PARTNER
---
Our partnership model seeks to develop and strengthen organizations around the world through global partnerships to address current challenges. Becoming a member of DBU's Global Community gives an organization access to DBU's diverse network of global partners, educational expertise, and leadership training to support both your students and faculty.
Membership is formalized through the signing of a partnership agreement with one of our DBU representatives. Interested schools must complete an application for partnership and return the application to global@dbu.edu. Contact us if you are interested in becoming a member of DBU's Global community or would like more information.
PARTNERSHIP

BENEFITS
---
Global Community Quarterly Periodical
Global Community Scholarship* - $100/credit hour or $500 one-time for IEP
Certificate Program Cohort Scholarship* - Receive a 30% of tuition scholarship when your school creates a cohort of 10 or more!
Honors Scholars Academy - $450 per course
Official Certificate of Relationship with DBU - an agreement signing ceremony is also possible if requested
DBU College of Education Bi-Annual Education Report
English & Language Specific Online Certificate Programs
Online English Classes
Virtual Professional Development Workshops
RightNow Media
* Neither U.S. citizens nor U.S. permanent residents are eligible to apply for these scholarships. Other scholarship opportunities are available for U.S. citizens and permanent residents. Contact the Global Community office for full details and requirements.
GLOBAL COMMUNITY

AFFILIATIONS
---
Meet the Director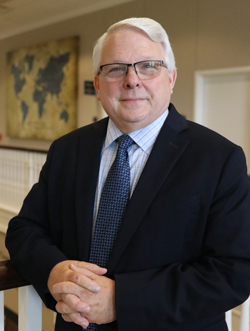 Greetings from Dallas Baptist University and the Global Community! DBU's Global Community exists to provide networking and resources for school administrators, educators, and leaders around the world. We know how difficult it can be to provide a quality, faith-centered educational program for your community. With that in mind, our desire is to share the resources of Dallas Baptist University to provide our partners with leadership training, teacher professional development, student scholarships, English language classes, and dual credit classes.
Please allow me to invite you to become a part of the Dallas Baptist University Global Community and let us help you be the global leader you are called to be!
Phil Armstrong
Director of the Global Community
Email: global@dbu.edu
Phone: 214-333-5246