STEM Master of Business Administration
Analytics affect every aspect of business today. The STEM MBA at DBU provides students with an exceptional Christ-centered MBA program focused on the analytical and quantitative aspects of business leadership. STEM designates the program has an emphasis on Science, Technology, Engineering, or Math.  
Taught by exceptional Christian faculty professionals in their respective fields and dedicated to student learning and development, the STEM MBA focuses on technology and innovation coupled with a traditional MBA core. The STEM MBA prepares you for a successful and rewarding executive career in diverse business environments where applying science, technology, engineering, and quantitative analytics is foundational to effective and innovative leadership.
More than an Education
DBU's STEM MBA develops more than just your career. DBU Faculty are committed to excellence in academics and investing in your personal development. Faculty members work closely with you to equip you with the business knowledge, decision-making skills, and industry expertise necessary for future executive employment and leadership opportunities. The tight-knit learning environment provides an opportunity for students to develop essential networking relationships with peers and industry leaders. At DBU, we are building more than a network. We are building a community.
Marked by Service
At DBU, our professors dedicate themselves to your success. How you achieve is more important than what you achieve. In the STEM MBA program, you will learn through real-world projects designed to hone individual skill development in areas such as creating successful business models, innovating and integrating technologies, and applying a Christian worldview to achieve your personal goals.
The STEM MBA at DBU empowers graduates to lead organizations and influence communities. Our flexible classes, including in-class and online sessions, are built for working professionals. 
Are you interested in pursuing a STEM MBA at DBU? Click the link below to learn more.
Meet the STEM MBA Program Director
"The DBU STEM MBA provides an exceptional in class and online experience. Interact directly with leaders in the field, be personally mentored, become part of a community dedicated to technology and analysis."

- Dr. Joe Hopkins, Interim Program Director
214-333-6943 | jhopkins@dbu.edu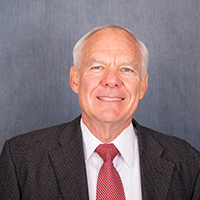 Additional STEM MBA Program Information
Admission Requirements for the STEM M.B.A.
Graduate Admissions will review the following criteria as it strives to take a holistic view of the applicant in order to determine the likelihood of success in the STEM MBA program. All applicants for the DBU STEM MBA program must meet the following criteria:
A Bachelor's Degree from an institution accredited by an Institutional Accrediting Agency approved by the US Department of Education
Evidence of sound moral character and compatibility with DBU's mission.
A likelihood of academic success as demonstrated by a GPA of 3.0 or higher on a 4.0 scale in all previous course work (Graduate Admissions may take into consideration the student's performance in the last 60 hours of undergraduate course work and will review applicants with GPA's below 3.0 holistically)
Recommendation forms and professional resume's will be reviewed as part of the holistic review.
View the Full Details on Holistic Review Process or Contact the Graduate School for additional information.
The Master's Degree Admission Committee strives to take a holistic view of the applicant in order to determine the likelihood for success in the STEM MBA program. Applicants who show potential for graduate study, but do not meet the criteria for Full Admission may be admitted for up to 12 hours under Provisional status.
The admission requirements listed above are specific to this degree program and are supplemental to the Graduate School's requirements for Full Admission. Admission to one graduate program does not guarantee admission to another. Applicants who show potential for graduate study, but do not meet the criteria for Full Admission, may be admitted for up to 12 hours under provisional status. Students admitted under Provisional Admission will be granted Full Admission upon successful completion of 12 credit hours and fulfillment of the conditions of their admission as determined by the Master's Degrees Admission Committee.
Full Admission Requirements | International Admissions | Transfer Admissions
Our program provides many options for creating a custom degree to give you the most benefits to your career. Choose from one of 9 concentrations, pair your STEM MBA with a second master's degree, or pursue an advanced certificate to top off your diploma.
Concentrations
Business Intelligence and Analytics
Cybersecurity
Data-Driven Operations and Supply Chain Management
Finance
IT and Innovation
Marketing Analytics
Project Management Technologies
Technology and Engineering Management
STEM Management
Degree Plan
View the Complete Degree Plan >>
* Contact us to learn about which courses you will need to begin this degree. We are structured to provide a top-quality STEM MBA to students who come from all educational fields.