Master of Science in Supply Chain Management
Recent events have struck havoc on global supply chains, exacerbating the demand for leaders who can think strategically, act ethically to lead others, and build resilience for the future.
The Master of Science in Supply Chain Management is an accredited STEM degree emphasizing innovative leadership and decision-making, focused on end-to-end global supply chain management strategies.
The heart of the program leads the graduate through innovation, data analytics, and operational excellence; challenging leaders to develop forward thinking supply chain processes, logistics, and supply chain strategies. 
More than an Education
We want our graduates to be skilled practitioners and technical experts. Our faculty bring a unique combination of field experience from a broad array of industries with an ability to create an engaging learning environment. The Master of Science in Supply Chain Management program conveniently combines in-person, synchronous and asynchronous online opportunities to help students face the challenges of balancing a career, family, and furthering their education.
Marked by Service
At DBU we are dedicated to your success. Whether you are looking to advance in your current career or seeking a new career in the expansive field of supply chain management, we provide an opportunity for experiential learning through industry collaboration.
Our graduates serve as organizational leaders across the supply chain industry.
Meet the M.S. in Supply Chain Management Director
"We provide unique and customizable paths to prepare you to meet the challenges posed by our rapidly changing global markets. Come join our community and help transform the world."

- Dr. Joe Hopkins, Program Director
214-333-6943 | jhopkins@dbu.edu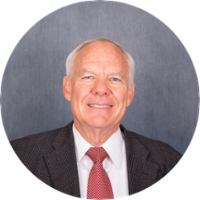 Additional M.S. in Supply Chain Management Program Information
Degree Plan
Accreditation
Bachelor of Business Administration and Bachelor of Business Studies programs at the undergraduate level and Master of Business Administration and Master of Arts in Management programs at the graduate level are fully accredited by the ACBSP.  Master of Science in Information Technology Management and Master of Science in Management programs have met conditions for eligibility and are awaiting confirmation of accreditation by the ACBSP.  Master of Science in Finance, Accounting, Supply Chain, Project Management, and Digital Risk Management are in the process of meeting the conditions of eligibility for accreditation by the ACBSP.
Admission Requirements for the M.S. in Supply Chain Management
3.0 GPA + 5 years of applicable work experience
OR 3.4 GPA
Candidates who don't meet either standard above can apply and mention in the Statement of Purpose, found in the Graduate Application, why they should be considered for admission. 
A Bachelor's Degree from an institution accredited by an Institutional Accrediting Agency approved by the US Department of Education
Evidence of sound moral character and compatibility with DBU's mission
The admission requirements listed above are specific to this degree program and are supplemental to the Graduate School's requirements for Full Admission. Admission to one graduate program does not guarantee admission to another. Applicants who show potential for graduate study, but do not meet the criteria for Full Admission, may be admitted for up to 12 hours under provisional status. Students admitted under Provisional Admission will be granted Full Admission upon successful completion of 12 credit hours and fulfillment of the conditions of their admission as determined by the Master's Degrees Admission Committee.
Full Admission Requirements | International Admissions | Transfer Admissions