Master of Science in Kinesiology
The Master of Science in Kinesiology is a 36-hour degree program that prepares candidates for Christian servant leadership in the multi-faceted areas of Kinesiology, equipping them with intercultural and leadership skills to integrate their Christian faith and witness as they make significant contributions to the human endeavor.
Students in the Master of Science in Kinesiology graduate program will complete classes that prepare graduates for leadership roles in the Athletic, Fitness, Health, Recreation, and Wellness Industries. The Master of Science in Kinesiology degree is a specialized STEM (Science, Technology, Engineering, and Math) program. This degree includes scientific study in anatomy, physiology, biochemistry, and the biophysics of human movement.
More than an Education
This multifaceted program equips graduates with the combination of knowledge and practical skills to prepare them to integrate their Christian faith with their profession. Master of Science in Kinesiology graduates are equipped to handle challenges in the workplace with knowledge and experience from a Christian perspective.
Marked by Service
DBU professors genuinely care about the success and education of their students. They build real relationships and pray daily for their students, both in and out of the classrooms, which gives students the opportunity to receive recommendations and connections for their futures.
Obtaining a Master of Science in Kinesiology degree will distinguish you from others in your field. The sooner you begin classes, the sooner you can utilize the knowledge you obtain.
"Professors in the Graduate Kinesiology Program aim to prepare graduates for the jobs they are seeking in their chosen career fields and to enable them to successfully face the challenges and opportunities that await them in their careers."

- Dr. Ray Galloway, Program Director
214-333-5253 | rayg@dbu.edu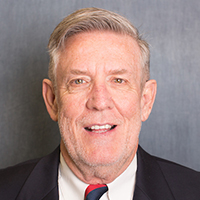 Get Connected with your Program Director
Admission Requirements for the M.S. in Kinesiology
There are no requirements additional to the Graduate School's requirements for Full Admission.
The admission requirements listed above are specific to this degree program and are supplemental to the Graduate School's requirements for Full Admission. Admission to one graduate program does not guarantee admission to another. Applicants who show potential for graduate study, but do not meet the criteria for Full Admission, may be admitted for up to 12 hours under provisional status. Students admitted under Provisional Admission will be granted Full Admission upon successful completion of 12 credit hours and fulfillment of the conditions of their admission as determined by the Master's Degrees Admission Committee.
Full Admission Requirements | International Admissions | Transfer Admissions