Master of Science in Information Technology and Management
The M.S. in Information Technology and Management program is a flexible, 36-hour STEM degree designed to prepare students to be successful servant leaders in a market driven by data and insights.
M.S. in Information Technology and Management graduates become Business/Data/BI/Systems Analysts, Technology Strategists, Technology Consultants, Information Security Managers, Information Technology Managers, Information/Privacy Risk Consultants, FinTech Specialists, Scrum Masters, Project Managers, Program Managers, and so many more!
More than an Education
"Disrupt the disrupters" is the motto of our program and we prepare students for the next wave, trend, or tectonic shift. We equip students with future-proof skills to take advantage of new opportunities created by disruptive technologies and thrive in an uncertain future.
This Master's program will pair a broad-based foundation in organizational management with technology skills to lead highly skilled technology teams. Students will explore how the interaction between management, technology, and leadership provides strong solutions.
Marked by Service
The focus of our program is on experiential learning through industry collaboration wherein students solve real world business problems using technology. The result is a graduate with the ability to transition into both disruptive and traditional organizations.
"Reimagine your future. Disrupt the status quo. Launch your career."

- Sharon Gorikapudi, Program Director
214-333-7252 | sharong@dbu.edu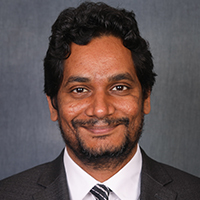 Get Connected with your Program Director
Our program provides many options for creating a custom degree to give you the most benefits to your career. Choose from one of 15 concentrations, pair your MBA with a second master's degree, or pursue an advanced certificate to top off your diploma.
Admission Requirements for the M.S. in Information Technology and Management
Successful completion of the Graduate Record Examinations® (GRE®) or Graduate Management Admission Test® (GMAT®).

GRE: 302 (Verbal: 148, Quant: 154, AWA: 3.5)
GMAT: 600

Three or more years of work experience in Information Technology or Management desired (not required)
The admission requirements listed above are specific to this degree program and are supplemental to the Graduate School's requirements for Full Admission. Admission to one graduate program does not guarantee admission to another. Applicants who show potential for graduate study, but do not meet the criteria for Full Admission, may be admitted for up to 12 hours under provisional status. Students admitted under Provisional Admission will be granted Full Admission upon successful completion of 12 credit hours and fulfillment of the conditions of their admission as determined by the Master's Degrees Admission Committee.
Full Admission Requirements | International Admissions | Transfer Admissions