Master of Science in Accounting
The accounting profession is shifting to a focus in data analytics and Core-plus-Discipline approach to the Certified Public Accountant (CPA) exam. It has become more important to have a deep level of accounting knowledge, as well as analytical skills.
The Master of Science in Accounting is a rigorous, Christ-centered, 37-hour degree program that focuses on meeting the needs of the accounting profession and provides an educational foundation to sit for the Certified Public Accounting (CPA) exam. Study includes advanced financial and managerial accounting along with taxation, fraud, data analytics, and auditing. Additionally, graduates will be certified in Becker's Data Analytics and Microsoft Excel Fundamentals.
The MS in Accounting, along with the prerequisites and a business undergraduate degree, provides students with educational requirements needed to sit for the CPA exam. The program includes 21 hours of Texas State Board of Public Accountancy (TSBPA) approved accounting hours and 3 hours of TSBPA approved ethics hours.
More than an Education
We have a robust network including CPA firms such as Deloitte, EY, PwC, Saville, BKD, and so many more. CPA firms invest in our students by leading seminars in resume writing, etiquette, interview skills, etc. Additionally, we work side-by-side with firms for internship and job placement.
Our faculty have extensive experience, many are CPAs themselves, and genuinely care about their students. You will be mentored, encouraged, and challenged as you learn from dedicated faculty who want to see you succeed.
Marked by Service
DBU is a Christ-centered university with a mission to please God by producing servant leaders who will transform their organizations and communities. We encourage our students to lead by serving the interests of those around them.
Our graduates are leading in Big 4 and national public accounting firms, as well as in industry and non-profit organizations.
Meet the Accounting Department Chair
"We are excited to partner with you on your journey to be included in the next generation of CPAs! Whether your interests include financial accounting, tax, audit, or fraud, the MS Accounting program is for you!"

- Dr. Kimberly Bates, Chair
214-333-5326 | kimberlyb@dbu.edu
Dr. Bates is a CPA with a BBA in Finance, Masters in Accounting and a PhD with a research focus in fraud.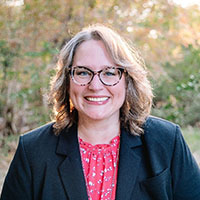 Additional M.S. in Accounting Program Information
Accreditation
Bachelor of Business Administration and Bachelor of Business Studies programs at the undergraduate level and Master of Business Administration and Master of Arts in Management programs at the graduate level are fully accredited by the ACBSP.  Master of Science in Information Technology Management and Master of Science in Management programs have met conditions for eligibility and are awaiting confirmation of accreditation by the ACBSP.  Master of Science in Finance, Accounting, Supply Chain, Project Management, and Digital Risk Management are in the process of meeting the conditions of eligibility for accreditation by the ACBSP.
Admission Requirements for the M.S. in Accounting
3.0 GPA + 5 years of applicable work experience
OR 3.4 GPA
Candidates who don't meet either standard above can apply and mention in the Statement of Purpose, found in the Graduate Application, why they should be considered for admission. 
A Bachelor's Degree from an institution accredited by an Institutional Accrediting Agency approved by the US Department of Education
Evidence of sound moral character and compatibility with DBU's mission
The admission requirements listed above are specific to this degree program and are supplemental to the Graduate School's requirements for Full Admission. Admission to one graduate program does not guarantee admission to another. Applicants who show potential for graduate study, but do not meet the criteria for Full Admission, may be admitted for up to 12 hours under provisional status. Students admitted under Provisional Admission will be granted Full Admission upon successful completion of 12 credit hours and fulfillment of the conditions of their admission as determined by the Master's Degrees Admission Committee.
Full Admission Requirements | International Admissions | Transfer Admissions