Master of Education in School Counseling
Note: Beginning with students enrolled for Fall 2019, the M.Ed. in School Counseling at DBU will increase from a 36-hour to a 48-hour non-thesis program due to new regulations from the Texas Education Agency.
The Master of Education in School Counseling is a 48-hour, non-thesis professional development program leading to the Texas School Counselor Certificate. The program is designed to meet or exceed the certification requirements for School Counselors as established by the State Board for Educator Certification.
More than an Education
The Master of Education in School Counseling prepares currently certified teachers to pursue the School Counselor Certificate in Texas. This program is designed to provide the framework for school counselor preparation and enhance the professional development of educators who are seeking a graduate degree in school counseling. Graduates of Dallas Baptist University's M.Ed. in School Counseling have a consistently high pass rate on the state certification exam for school counselors, and many of the school counselors currently employed in the Dallas/Fort Worth area are DBU Alumni.
Marked by Service
The curriculum prepares candidates to integrate the theories and practices of a comprehensive, developmental guidance and counseling program in a manner that supports the personal, social, academic, and career development of students within elementary, middle, and high school educational institutions. All the while the DBU graduate candidate gains the education and training needed to assume the role of a true servant leader.
"My desire is to be a beacon of light to students in our designated programs and to help them grow and mature academically, emotionally, and spiritually. I teach because I want students to believe in themselves and realize the important role they play in today's society and to encourage them to pursue excellence in their respective settings."

- Dr. Bonnie Bond, Program Director
214-333-6838 | bonnie@dbu.edu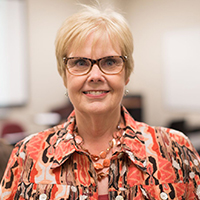 Get Connected with your Program Director
Our program provides graduates with an exceptional approach to School Counseling and a course structure that differentiates Education professionals.
Admission Requirements for the M.Ed. in School Counseling
Valid Teaching Certificate
2+ years of credible teaching experience in a K-12 private or public school
Satisfactory score on the Miller Analogies Test (MAT) or Graduate Record Examinations® (GRE®).
The admission requirements listed above are specific to this degree program and are supplemental to the Graduate School's requirements for Full Admission. Admission to one graduate program does not guarantee admission to another. Applicants who show potential for graduate study, but do not meet the criteria for Full Admission, may be admitted for up to 12 hours under provisional status. Students admitted under Provisional Admission will be granted Full Admission upon successful completion of 12 credit hours and fulfillment of the conditions of their admission as determined by the Master's Degrees Admission Committee.
Full Admission Requirements | International Admissions | Transfer Admissions
"I feel so blessed to spend these two years at DBU. Thank you to all the staff and my professors.
Your roles as servant-leaders deeply touched me."
- ESTHER HUANG, SPRING '17
"My experience at DBU was truly inspiring. I was challenged in ways I never have been, and learned to spread my wings. I am truly a different person, and I am grateful for my time I spent at DBU." 
- KASEY JOHNSON, SPRING '18
"DBU is a blessing to me! The professors truly care about you. I had the opportunity to meet some great people on campus. I feel well-prepared to be a servant leader in my new position as a school counselor."
- ALLISON CLARK, SPRING '17
"I am incredibly grateful for my experiences at DBU. I found the entire faculty to be insightful and supportive. I never felt like a number and knew I could reach out if I ever had questions. I'm proud to be a patriot!"
- MELISSA WOLFF, SPRING '17
"Dallas Baptist University is a remarkably exceptional college. I will always remember my experiences at DBU. I have grown into a better person because of the professors and students at DBU."
- VERONICA SPIKES, SPRING '16
"I am grateful for God's Word, professors and friends I have met while getting my master's degree."
- TARA SHEFFIELD, SPRING '17
"My life has changed so much thanks to DBU. The School Counseling program has created in me a deeper desire to continue to grow closer to Christ as well as to be a servant leader in my community. I am forever thankful for my professors and the Program Director for believing in me."
- LATRICE TODD, SPRING '17
"DBU prepared me to take on the role as a school counselor and helped me reach another milestone in my life. Professors played a huge role in my journey to becoming a stronger Christian, student, and school counselor."
- ASHA CREARY, SPRING '16
"The professors and program director at DBU truly care about the students. They not only provide the knowledge and experience to be prepared as a school counselor, but they also share job opportunities and truly want you to succeed."
- CRYSTAL LAW, SPRING '16
"I am blessed to have received my education from DBU and will be forever grateful. My professors have been amazing and truly wanted to see me succeed. I am prepared to begin my new life as a school counselor. Thank you, DBU, for helping me achieve my dream."
- JILL VAN DYKE, SPRING '16
"Spiritual growth is a lifelong process and at DBU I was able to grow spiritually and professionally. While on this journey, it wasn't always easy, but the love and support I received from the professors and my peers will forever be treasured because without them, I would not have been able to pursue my dream of becoming a counselor."
- GAIL NEALE, SPRING '16
"The experience of graduate school has made an incredible impact on my life because of the fire that has been ignited in my heart. I have always had a desire to help others, but that has changed; it has now become a mission."
- HOLLY MCFARLAND, SPRING '16
"DBU has helped me prepare to be a school counselor and a better person. I have felt loved, cared for, and respected in terms of diversity. The professors are very helpful and dedicated in working with students to be successful. I feel truly blessed to have received my education at DBU."
- BINDU SAJIT, SPRING '16
"I am so grateful for the experience, education and lifelong friendships I received from attending DBU. Dr. Bond and all of the professors supported me and encouraged me to succeed every step of the way. I would highly recommend the Master of Education in School Counseling program at DBU."
- BETH PARRISH, SPRING '17
"I am so thankful for my time at DBU in the School Counseling program. It has been a great program with teachers of excellence and experience. Dr. Bond is a godly example of a great teacher, mentor, and friend. I highly recommend the Master of Education in School Counseling program at DBU."
- ROBBIE WATSON, SPRING '16
"When I started the Master of Education in School Counseling program at DBU, I expected it to be challenging. I expected it to prepare me to move forward in my career. What I did not expect was to meet lifelong friends in the program. I did not expect the professors to be as supportive, understanding, and encouraging as they turned out to be. I am grateful for the experience I have had at DBU and definitely will encourage other to consider DBU and all it offers."
- ERIN CARLISLE, SPRING '16