Master of Arts in Sport Management
The M.A. in Sport Management is a 36-hour degree program that prepares students to excel and thrive in the sport industry. A student with a master's degree in Sport Management can step straight into positions in professional, collegiate, public and private high schools, parks and recreation, or sports ministry.
Students are equipped as they learn and experience a Christ-centered approach to organizing sport for others to enjoy. The program utilizes class assignments, lectures, group projects, internships, case studies, and class projects that give the student experiences much like what they will see every day in the workforce. Since our campus is located near the 5th largest market in the country, opportunities abound for a hands-on learning approach.
More than an Education
The M.A. in Sport Management is aimed towards strengthening the student in the areas of the sport industry, leadership, planning, and administration of sport programs. The opportunities in the DFW area, the instruction from professors in the field of sport management, and the faith-based purpose to utilize sport to impact others gives students the best overall experience in this master's program.
Graduates of the Master of Arts in Sport Management at DBU are unique in their field. The instruction they receive, the ability to partner with top sports organizations that are minutes from campus, and the passion and heart that they have for ethically administrating sport with a Christian worldview will easily set them apart from others in the field of sport management.
Marked by Service
Our students are encouraged to create ways to further the cause of Christ in and through sport. Sports are such an amazing activity with which we can engage and impact the lives of so many people; the students continually seek ways to incorporate their faith into their careers. Sport managers are truly given the opportunity to lead others with a servant's mindset. It is our daily task to plan, build, and administrate sports programs that are aimed at giving others the opportunity to enjoy the games that we love.
The sport industry is fast-moving and always growing. Those who want to get on the bandwagon and excel in this industry need to be well-equipped to ensure their success. Just as athletes cannot expect success without proper training and equipment, students cannot expect success without proper education. A Master of Arts in Sport Management will prepare you to step onto the field or court and manage the game you love.
Meet the M.A. in Sport Management Director
"Professors in the Graduate Sport Management Program aim to prepare graduates for the jobs they are seeking in their chosen career fields and to enable them to successfully face the challenges and opportunities that await them in their careers."

- Dr. Ray Galloway, Program Director
214-333-5253 | rayg@dbu.edu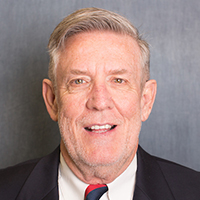 Additional M.A. in Sport Management Program Information
Admission Requirements for the M.A. in Sports Management
View DBU Graduate School's admission requirements.
Admission to one graduate program does not guarantee admission to another. Applicants who show potential for graduate study but do not meet the criteria for Full Admission may be admitted for up to 12 hours under provisional status. Students admitted under Provisional Admission will be granted Full Admission upon successful completion of 12 credit hours and fulfillment of the conditions of their admission as determined by the Master's Degrees Admission Committee.
Full Admission Requirements | International Admissions | Transfer Admissions