Master of Arts in Communication
The M.A. in Communication is a 36-hour, non-thesis program designed to equip students for careers in strategic corporate communications, public relations, consulting, advertising, marketing, media, education, communications, and related fields. Core classes impart the understanding of communication theory and the avenues through which all communication contexts are delivered or received.
More than an Education
The Master of Arts in Communication program conveniently combines in-class, hybrid, and online opportunities to be flexible with your busy schedule. Our faculty and professors bring with them a unique combination of field experience and vocational calling, making them exceptional examples from which to learn.
The M.A. in Communication provides the opportunity to discover the components of effective and ineffective communication. A firm grip on understanding communication through all of its channels will make you an invaluable asset to any company. No matter how the company communicates, the need for an expert in the field will always be present.
We understand that obstacles to furthering your education could currently exist and eventually manifest during your pursuit of a master's degree. Your program director and professors are here to continuously point you toward success and help you complete your graduate degree with excellence.
Marked by Service
Faith-integrated curriculum advances your learning experience by teaching you how to enhance an organization with your unique skill set while serving your fellow employees with compassion and grace. Working in the field of communication will present you with opportunities to share your testimony, empathize with the needs of your office community, and articulate your faith in all environments.
Whether seeking promotion or looking to enter into a new field, now is the time to get a Master of Arts in Communication. With constant technological advances in how businesses communicate, the need grows larger every day for employees who understand how to navigate the expanding field of communications.
Meet the M.A. in Communication Program Director
"My full-time job is to take care of you. Whether providing clarity, advising for classes, enrolling, or any need that is specifically yours, I have been called to be of service."

- Carter Willis, Program Director
214-333-5867 | carterw@dbu.edu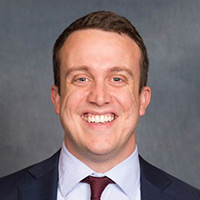 Additional M.A. in Communication Program Information
Our program provides several options to customize your master's degree with dual degrees and advanced certificates.
Admission Requirements for the M.A. in Communication
There are no requirements additional to the Graduate School's requirements for Full Admission.
The admission requirements listed above are specific to this degree program and are supplemental to the Graduate School's requirements for Full Admission. Admission to one graduate program does not guarantee admission to another. Applicants who show potential for graduate study, but do not meet the criteria for Full Admission, may be admitted for up to 12 hours under provisional status. Students admitted under Provisional Admission will be granted Full Admission upon successful completion of 12 credit hours and fulfillment of the conditions of their admission as determined by the Master's Degrees Admission Committee.
Full Admission Requirements | International Admissions | Transfer Admissions