A Heart for the Harvest: Alumna Spotlight on Kathleen Sotomayor
If you ever have the privilege of meeting DBU alumna Kathleen Sotomayor, it won't be long before you are impacted by her contagious heart for the spiritual harvest. Serving today as Local Missions Minister at the Heights Baptist Church in Richardson, Texas (led by Senior Pastor and DBU Trustee Dr. Gary Singleton), Kathleen is dedicated to mobilizing her church family to transform their surrounding "Jerusalem" with the Gospel.
After joining The Heights, Kathleen began assisting in the Spanish ministry, followed by answering a divine call to lead in overseeing all evangelistic efforts to engage the cities of Richardson and neighboring Dallas.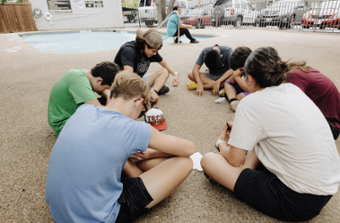 She currently directs the church's ESL program; a ministry devoted to people with special needs; Bible clubs for children called "Kidz Point" hosted at three different apartment communities; and various all-day and annual week-long urban service projects.
The Lord began preparing Kathleen to labor for the harvest long before she ever set foot in Texas, moving in the heart of a young girl growing up in a Christian home in Guatemala City with a rich heritage of faith and two generations of church planters. These spiritual examples and experiences shaped the rhythm of her life to be centered on seeing and ministering to the needs of others, which grew into Kathleen's own deep hunger and personal calling to serve the Lord in evangelistic ministry.
Along the journey of her preparation, Kathleen experienced life-changing moments to witness the power of the Holy Spirit up close and the rewarding joy of seeing lives touched and transformed by the heart of God. As a teen, she joined a medical mission ministry serving those living in remote towns and villages without ready access to a hospital or who could not afford care. While being treated for their illnesses, patients also visited prayer and counseling stations where Kathleen, during hot Guatemalan summers, served as a local translator for visiting missionary teams from the U.S. "I remember seeing the Lord move in ways that I had never seen before," she says – her eyes opened to indescribable poverty and spiritual emptiness.
On one particular day, a missionary, feeling moved by the Lord that she was to wash the feet of a patient, encountered a woman with a repulsive wound on her foot. Impacted not only by this missionary's gift of spiritual intuition and discernment, Kathleen also learned that obeying the call to ministry requires humility, vulnerability, and enduring the uncomfortable. "Would you ever do something like this if I asked you to?" Kathleen felt the Lord asking her. From these experiences testing her compassion, she learned that obedience, while uncomfortable, can also lead to profound experiences of the presence of God and to unique blessings not only for the ones being served.
Kathleen was so moved by this encounter that she later obeyed her own prompting to wash the feet of an older farmer overwhelmed by life. Tears streamed down his face as the Lord touched his heart through Kathleen's kindness and courage to obey. "The Lord allowed me to see it is not about me," she reflected, "but I am a vessel in His hands, and He can use us to speak and minister to other people that might need it right then."
When Kathleen stepped onto the campus of Dallas Baptist University, she was immediately struck by its prominent emphasis on Christ-centered servant leadership. From the statues of Jesus to her graduate ministry classes, her gifting and calling to evangelism were further confirmed and even put into practice as a co-leader of Discovery Bible Studies. Joining with other Christian domestic and international students on campus, college-aged young adults who did not know Jesus were invited to learn about the Gospel and experience community, including several who were later celebrated as new disciples in baptism.
After graduating with her Master of Arts in Global Leadership in 2021, Kathleen joined East-West Ministries/Way Forward in Dallas, a residential apartment ministry that builds relationships in the community, hosts special events for children, and organizes Bible studies to plant seeds of the Gospel among a diverse and transient apartment population. At the same time, she also served as project manager at Insight for Living, where the Lord provided her with some experience in office and administrative responsibilities while expanding her knowledge of the global harvest through ministries that reached around the world.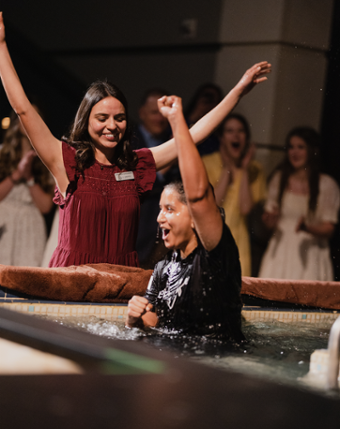 With the joys of ministry have also come many challenges – whether a lack of seeing immediate fruit or the sheer exhaustion – but Kathleen knows the end of the story, and she is confident that obedience to the Lord is worth it all. The Lord has also been faithful to provide sweet moments and encouraging reminders of His redeeming presence at work. Last year, on Easter Sunday, Kathleen was given the special privilege of baptizing a passionate disciple of Christ whom she had befriended and ministered to at a Bible Study at The Heights.
"I am asking the Lord to use my hands, my heart, and my mind, and everything that I am," says Kathleen. Sharing the heart of her Savior, she looks out and sees a harvest that is plentiful with a shortage of laborers. Her prayer is that we will have eyes to see with compassion the spiritual hunger around us, stepping out in courageous obedience to share our eternal hope with lost people – and so join with the angels in heaven who celebrate when even one lost soul is saved and begins to walk in relationship with God's Son.
Written by Dr. Michael Whiting
Dr. Michael Whiting is the Director of Written Content in University Communications at Dallas Baptist University.