Facing the Future without Fear: Lieutenant Jason Webb
"Life is understood backwards but must be lived forward. Just because something doesn't work out the way we think it should, doesn't mean it is not going to work. It just means there is something better waiting for us."
Lieutenant Jason Webb is currently a second-year student in the 2N Naval Construction and Engineering Program at the Massachusetts Institute of Technology. Prior to his time serving in the United States Navy and his transition to MIT, Jason began his studies right here on University Hill. As Jason looks back on his time at DBU and his life since graduating, the Patriot family celebrates all the Lord has accomplished in Jason's life and is encouraged by Jason's charge to "fear not" in all circumstances.
Jason was born in Fort Worth but grew up primarily in Hawaii and California as his dad served in the Navy; his family returned to Texas during Jason's sophomore year of high school. After graduating, Jason ultimately decided to pursue his undergraduate degree at DBU because he felt that we offered something other universities failed to provide: "The serenity of the campus combined with friendships among the students created a nurturing environment that I found conducive to learning," shares Jason. "What I found at DBU was knowledge for my mind and peace for my soul."
Jason's "inexplicable curiosity of math" led him to pursue his bachelor's in math with a minor in chemistry from DBU. "The problem-solving methods and patterns of thinking that the subjects taught me satisfied my desire for learning," Jason says. While on campus, Jason's fondest memories include enjoying the spectacular views atop University Hill and spending time working through math proofs in Dr. Stewart Tung's office. "Dr. Tung's passion and knowledge of his field was only surpassed by his patience and desire to help his students learn," Jason shares.
After graduating from DBU in 2013, Jason joined the United States Navy where he held the division officer roles of Electronic Assistant, Reactor Controls Assistant, Assistant Weapons Officer, Damage Control Assistant, and Information Systems Security Manager on his submarine. Post-submarine, while stationed at Portsmouth Naval Shipyard, Jason held the roles of Ships Safety Officer and Work Integration Manager. Jason shares that his love of country, desire to continue his family's line of service, a personal wanderlust, and aspiration to put his degree into practice all led to his choice to serve.
Following his time at Portsmouth Naval Shipyard, Jason applied to the 2N Naval Construction and Engineering Program, which grants naval officers within the Engineering Duty Officer community the opportunity to complete their graduate studies at MIT. Only ten positions are made available each year and, after applying, Jason was selected as one of these. In 2024, Jason plans to graduate from MIT with his Naval Engineers Degree in Marine Construction and Engineering and his Master's in Electrical Engineering and Computer Science. Jason's substantial experience in the operation and maintenance of naval vessels sparked his desire to learn a fundamental understanding of the science and engineering that comprises the vessels' design, construction, and repair, which led him to pursue these areas of graduate study.
Reflecting back, Jason shares that he not only gained proficiency in his degree at DBU but also learned what it meant to lead. "The concept of servant leadership is more applicable to one's career than a younger, less experienced me initially thought," Jason admits. "Servant leadership has fostered bonding and mutually beneficial relationships within my own teams."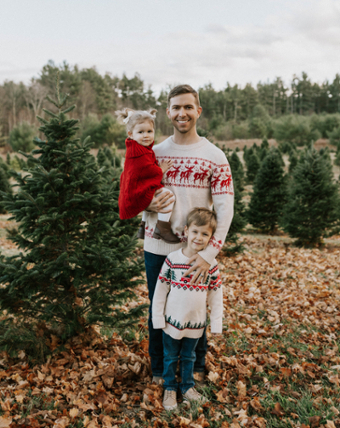 Jason is married to wife Becca, and together the Webbs have two children, Logan and Eloise. Jason shares that one of the most challenging times in his life was during the birth of his son Logan who was born three months premature. "This event, outside of being one of the scariest I have experienced, highlighted the helplessness one can experience with regard to the events in life. If ever there was a time for prayer, that was it," Jason shares. "Similarly, if there was ever proof of answered prayers, my son's current health and well-being are it." The Webbs are happy to report that Logan is now a completely normal, happy, healthy, and energetic five-year-old.
To current DBU Patriots Jason offers three pieces of advice: embrace failure, enjoy college, and 'fear not.' "My current success and happiness in life is, in part, due to a large failure," Jason says. "However, had I not experienced that failure I would not be currently attending MIT and living what I once considered to be a moonshot. Life is understood backwards but must be lived forward. Just because something doesn't work out the way we think it should, doesn't mean it is not going to work. It just means there is something better waiting for us."
Jason continues by advising Patriots to "enjoy your time as a student." He encourages students to find the balance between being studious and taking opportunities to have fun, grow, and discover new things. "Engage in clubs or activities of interest, or courses that spark curiosity," Jason says. "Don't get lost in the grind to get a specific degree; enjoy the college experience."
And, lastly, 'fear not.' "Regardless of a person's background, system of beliefs, or creed, this message of 'fear not' is understood and impactful." Jason says overcoming fear with courage is a fundamental human emotion and one that is addressed throughout Scripture 365 times with the words 'fear not'.
Even in moments when Jason has had every right to fear, he has learned that it is far sweeter to trust that the Lord is sovereign and has what is our best in mind. May we all rest in knowing that, whatever our circumstances may be, there is no reason to fear.
Written by Emmalie Ellis
Emmalie Ellis writes for the University Communications department at Dallas Baptist University.