Painting an Unbidden Narrative
August 31, 2020
Written by Jordan Jarrett
At its heart, Jim Hutchinson's career in art—from illustrating maps for Abeka books as a college student, to refining his art in New York, to now serving at DBU—has this mission statement, of sorts: to cause an "unbidden narrative to unfold" in the minds of his viewers.
"In my mind, if I tell a story with a painting, people will start asking me questions," Hutchinson said. "I have a special inroad with my paintings to relate my faith story that a lot of others don't. If a painter becomes good enough, he realizes the technique needs to disappear so that the story can tell itself. The older I get, I want to paint stories."
"I'm currently working on scenes in the Bible that you wouldn't typically think about." Hutchinson went on. "I'm composing one now of Jesus walking into the home of Zacchaeus, meeting his family, as the disciples wait outside. Another scene I'm working on wraps in my belief of dinosaurs existing before the flood." He described the scene of Noah and his sons working on the ark, as portrayed in the book of Genesis, and seeing Brachiosaurs in the distance eating off treetops.
In keeping with a vibrant imagination that works with a constant thread of faith running through, Hutchinson has paintings featured in the Ark Encounter museum exhibits in Kentucky, which was commissioned while he was teaching at DBU.
Another sample of Hutchinson's distinctly classical style and mellow palette is tucked away at the Dean Learning Center, with a portrait of William Berry Dean in the entry hall.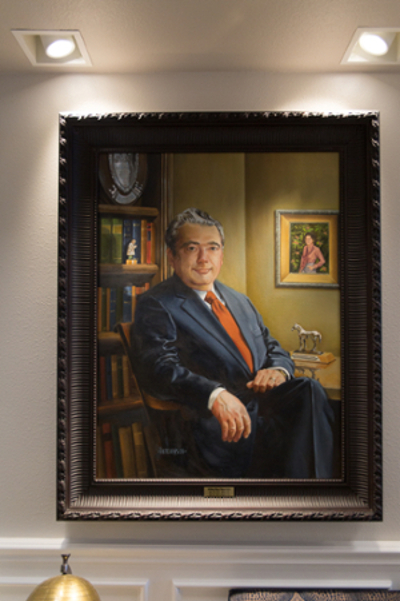 As a child up through high school, Hutchinson kept college-ruled notebooks filled with his own stories that he would write and illustrate.
He later attended Pensacola Christian College and studied in the commercial art program. In 1987, as he was going into junior year, the school asked Hutchinson to work for Abeka Books as a layout assistant; so began a career in commercial art and graphic design, and an unexpected road toward fostering a teacher's heart and calling.
Later the provost of PCC wanted Hutchinson to teach in art and design but it meant he would have to get his master's degree. Hutchinson agreed to get his MFA, which the school agreed to pay for through Abeka Books.
Hutchinson attended Marywood University, a Catholic school set in the rolling hills of Scranton, Pennsylvania. He traveled a circuit for four years, parsing time between the program in Scranton, to occasionally visiting NYC, and then returning to PCC to work.
Upon finishing degree in 1996, Hutchinson returned to Florida as chairman of the art department of PCC. Jim and his wife both left working at PCC in 2007, and came to Dallas only knowing that God would direct them. Jim had a brother in Dallas, Greg, who had graduated from DBU and was a youth pastor in Dallas.
Jim and his wife had attended Greg's graduation in 1994 and first encountered DBU's art department on a tour with Greg.
"It was a small art department," Hutchinson remembered." Greg said, 'You could do a lot for them here.' I looked at him and smiled, saying, 'Yeah, wouldn't that be something if I taught here?' Thirteen years later, I'm here."
He started teaching as an adjunct at DBU after trying to work as a freelance illustrator, but ultimately, Dr. Gary Cook brought Hutchinson on board in the communication department to start a graphic design degree.
Hutchinson worked for a year in the communications department, and soon became chair. In 2017, there were 50 graphic design majors at DBU but only seven art majors.
"I completely changed what the art department was about," Hutchinson said. "I have instituted graphic design, taught through both the art department and communication department. Two years ago, I instituted commercial art. That one makes me smile, because that was my degree at Pensacola in the 1980s. Then we started digital photography and studio art degrees."
Hutchinson, now associate professor of Communication and Art at DBU, has eight adjuncts who teach with him, who he says have been "fine-tuned" over the years.
"I'm happy to say that, with the incoming freshman class from this year, we've got 27 new freshmen coming into the art department. I'll have 82 total students this fall." Hutchinson says he is praying for eventual growth to 100.
But ultimately, beyond the joy of developing DBU's art school in terms of growth, Hutchinson finds his greatest joy in teaching.
"When students realize the hard work of what they do, that makes it all worth it," Hutchinson said. "I try to let my work do the talking for me when I show it to my students, and hope they respect it and take my counsel."
Hutchinson attended a 2015 workshop up in Tulsa with several former students, at a gallery of one of his former students, Rachel Wimpey, whose artwork is prominently featured on the east wall of Sadler Hall in Pilgrim Chapel. Another student in attendance, Emily, was one of the freshmen that Hutchinson first taught and mentored when he arrived at DBU in 2008.
At the end of the workshop, the artists and their old teacher ate out before departure time.
"By the time I had to leave for Dallas, I gave everyone a hug and left for my car," Hutchinson said. "I hear my name called and turned. Emily was crying, and gave me a big hug. She said, 'I just wanted to thank you for showing me this world.' It was one of the most touching moments of my career. When I taught her, she took it to heart and worked so hard. I love this world and the art in it. And so did she. Everything I poured into her, turned into a moment I'll never forget."
Hutchinson stopped for a moment as the moment sunk in anew. "It's been an exciting career," he went on. "God's been good. He's given me little tokens here and there from time to time to say, 'You're doing what I want you to do.'"
Written by Jordan Jarrett
Jordan Jarrett is a member of University Communications at Dallas Baptist University.