National Hispanic Education Summit Celebrates 10th Anniversary on the DBU Campus
November 4, 2019
Written by Dr. Michael Whiting
(L-R) Dr. Adam Wright, Dr. Gus Reyes, Dr. Gary Cook, and Rev, Girien Salazar
"The lack of equality is the biggest problem in our educational system today," says Rev. Samuel Rodriquez, president of the National Hispanic Christian Leadership Conference (NHCLC).
On October 21-22, following on the heels of Hispanic Heritage Month, the Faith and Education Coalition and NHCLC hosted its 10th anniversary National Hispanic Education Summit on the campus of Dallas Baptist University. The two-day conference featured a series of plenary presentations and panel discussions with perspectives contributed by college students, academic officials, university presidents, and church leaders centered around the theme: "Commitment from the Boardroom to the Classroom: Advancing University and Faith Community Practices for Hispanic College Completion." The goal of the summit was to bring the academy and the church together to address best practices for successfully recruiting, retaining, and graduating Hispanic college students while empowering churches to effectively shepherd their Hispanic students toward the completion of higher education.
"By bringing together Hispanic leaders from a variety of industries who share a common faith, the Faith and Education Coalition, once again, empowered participants to take keen insights back to their communities to make His Kingdom come," Dr. Nick Pitts, Executive Director of DBU's Institute of Global Engagement, said about this year's summit.
During the event, DBU Chancellor Dr. Gary Cook also received the Hispanic Education Impact Award for his long-term support of Hispanic education. Dr. Gus Reyes, Director of the BGCT Christian Life Commission, and Girien Salazar, Executive Director of the Faith and Education Coalition and a third-year Ph.D. student in Leadership Studies at DBU, presented the award.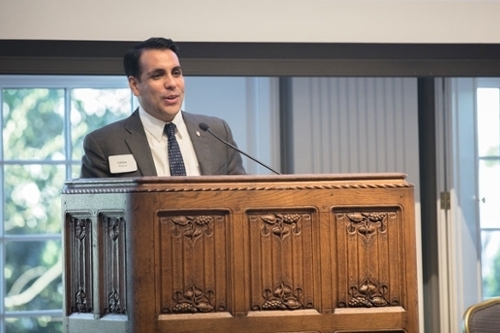 The Faith & Education Coalition of the National Hispanic Christian Leadership Conference was established to advance equality and educational opportunities for Hispanics across the nation. Guided by Colossians 1:8-9 as its theme verse, the Coalition's objective is to support efforts at increasing Hispanic children's academic success in public school and encouraging the attainment of college degrees, becoming equipped with the knowledge and wisdom to be leaders of the church and in society. There is great urgency in closing the inequality gap, as current projection indicates that one-third of the national population will be Hispanic by 2050.
Dani Orozco, a current master's student in the Graduate School of Ministry at DBU, participated in one of the panel sessions. She shared about the importance of family concerning advanced education. Her own father played a pivotal role in her life and countless others. He is a Doctor of Education and advocates for Christian education in Columbia. Aside from her academic development, when Orozco came to DBU, she encountered Christians from other nations and denominations, which broadened her worldview of cultures significantly. Also, while acknowledging that coming to the States for higher education is expensive, she spoke of the need to trust in the Lord to provide.
The success of this year's summit was directed by Rev. Girien Salazar. "Brother Salazar's leadership was instrumental in making this year's conference one of the best yet," said Dr. Pitts. "He is a gift to the church, and we are so grateful he is a part of the Dallas Baptist community."
Written by Dr. Michael Whiting
Dr. Michael Whiting is Assistant Professor of Christian History and Leadership at Dallas Baptist University.