DBU Honors Norman E. Miller During December Commencement Service
January 9, 2019
Written by Faith Myers
Norman E. Miller speaking during one of the December Commencement Services
Dallas, TX - Dallas Baptist University presented Norman E. Miller with an honorary Doctor of Humanities degree during this winter's commencement. Miller, Chairman of the Board of Interstate Batteries, oversees a global company that provides power for countless vehicles and devices. He grew up in Galveston, Texas surrounded by cars in his father's garage and service station before attending the University of North Texas. There, he met his wife, Anne, and together they moved to Tennessee where he joined his father's business, an Interstate Battery distributor.
Eventually, Miller took over the company in 1978. Since then, Interstate Batteries has grown to become the number one replacement battery in North America with more than 200,000 dealers, 200 retail battery centers, and 300 distributors. Interstate Batteries also began an ongoing and successful partnership in NASCAR with Joe Gibbs Racing, winning the Winston Cup Championship in 2000 and Sprint Cup Championship in 2015.
As the head of Interstate Batteries, first as President and CEO and now as Chairman of the Board, he has worked to provide spiritual support for all of his employees through their Chaplains Department, which provides Bible studies, optional service opportunities, and counseling services.
Miller is also a co-founder of I Am Second, a media ministry producing stories of redemption in the lives of people who have decided to follow Christ and put Him first. He is on the board of many organizations, such as the Oversees Council, Biblical Education by Extension, World Impact Dallas, and Dallas Theological Seminary.
He and Anne have been married for more than 55 years and have two children, Tracy and Scott, five grandchildren, and one great grandchild.
Dr. Joan Davis
Dr. Joan Davis, one of December's commencement speakers, currently serves as a Professor of Counseling and Psychology and Interim Chair of DBU's Psychology Department and recently celebrated her 25th anniversary at DBU. She has fulfilled God's calling on her life in the field of higher education, teaching both undergraduate psychology and graduate counseling courses as well as coordinating the staffing and scheduling of psychology class offerings for the College of Humanities and Social Sciences.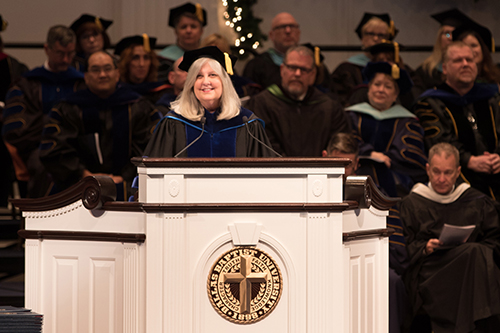 She is a native Texan and graduated with her Bachelor's degree at the top of her class at Howard Payne University in Brownwood, Texas. She has earned two graduate degrees from DBU, prior to completing her Ph.D. in Counseling from Texas A&M University-Commerce. During her tenure at DBU, she has served in a variety of roles, including Director of Academic Advising, Director of Counseling Services, Graduation Officer, as well as a full-time faculty member.
Dr. Davis has also served with DBU's ACTS (Advocacy for Campus Trust and Safety) Committee as a victim advocate, while also serving on DBU's Strategic Planning Committee and as Vice President of the Faculty Council. She is a mentor and advisor, helping to oversee the academic development of more than 100 undergraduate psychology students.
She was elected as the Advisor of the Year by the DBU student body in 2001 and she serves for the DBU Student Chapter of the American Association of Christian Counselors (AACC).
Dr. Davis and her husband, Rick, currently reside in Midlothian, Texas where they are active members of Freedom Community Baptist Church. Together they have four married children, Jeremy, Jennifer, Jonathan, and Jordan, all of whom are DBU graduates, and ten grandchildren.
Dr. Mark Cook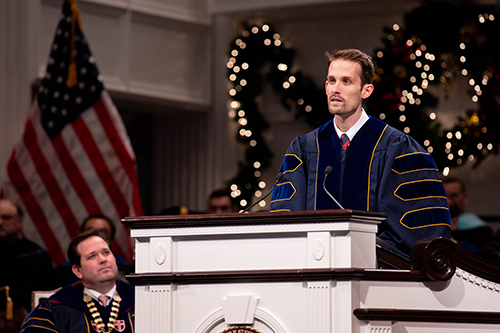 Dr. Mark Cook also served as one of this year's commencement speakers. Currently, he serves as Assistant Professor of Biblical Studies and Leadership at Dallas Baptist University, primarily teaching the course Developing a Christian Mind.
Cook grew up in Texas and earned a Bachelor of Arts in Communication Studies from Samford University in Birmingham, Alabama and enrolled at Beeson Divinity School, ultimately finishing his Master of Divinity at Truett Seminary several years later. After seminary, he served on the ministerial staff at First Baptist, Plano with a primary focus on college ministry. In 2013, he enrolled in DBU's doctoral program and graduated with his doctorate at this December's commencement.
During his doctoral work, he transitioned ministerial roles and served on staff at the Denison Forum. Cook worked specifically with the partnership between DBU and the Denison Forum, and was then subsequently appointed to his current faculty position at DBU.
Last year, Cook married his wife, Shannon. They currently reside in Dallas and are actively serving as members of First Baptist, Irving.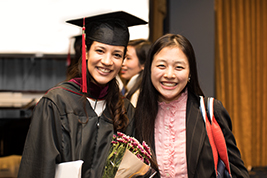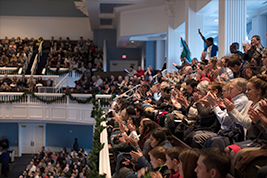 Written by Faith Myers
Faith Myers is a member of University Communications at Dallas Baptist University.