A Day in the Life: Tori Corbo
I climb 112 stairs every day to get to the top of the hill. I think every DBU student can attest that there is an abundant amount of stairs at our beloved school. What makes this funny to me, and fascinating to others, is that I love the stairs. They are a little challenge for me every day. I trek up them several times a day! True, there are days I don't love them. Yet, I embrace the stairs because, in my mind, I have decided that there is no getting around them.
Before I climb these stairs, however, I like to take a few moments to strengthen in a different way: through quality time with the Lord. It is during the stillness of the morning that my relationship is renewed with Him. He is the only One Who can give me breath, energy, and grace for another day. I pour out my heart to Him, listen, and surrender my will and day to Jesus, asking Him to bless me with wisdom and divine appointments. Once I have done that, I choose to tackle the day (and those stairs) with Him!
I love the stairs at this school because I see them as a literal interpretation of what DBU does for me. The stairs take me higher. The stairs make me stronger. The stairs test how far I am willing to push to get to the place I want to be.
The stairs remind me that it is up to me to climb them. I can choose to look at the stairs like an inconvenience or be fed up with their quantity. I can let them make me stumble. I can get mad at the stairs for being there. But, it does not change the fact that there are still stairs to be climbed.
There are still, and always will be, obstacles to tackle. Yet, I choose to see them as something that makes me stronger. Every step is a reminder that I am an overcomer intentionally choosing to rise above the negative that is weighing me down. Though out of breath and in need of water, I take each step. I do not quit. I keep climbing—and it burns. I feel my legs getting stronger, my heart beating faster, and my mind believing even harder that this is something I can do. I can do this.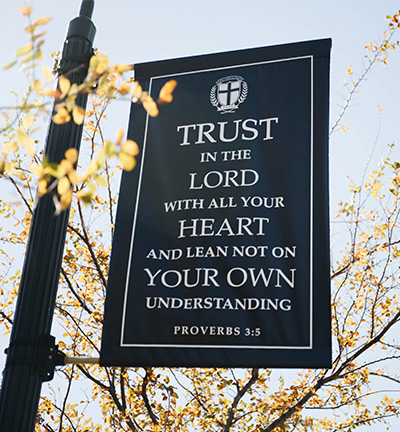 Once I reach the top of the hill, I take a deep breath. I smile and look up at that grand, infinite sky. Quickly, I glance at the banners that line our streets and proclaim His truth: "Trust in the Lord with all your heart and lean not on your own understandings" from Proverbs 3:5.
If I believed things like, "These stairs will never end," "I'm so tired," and "I can't do this anymore," I would be leaning on my own understanding. In reality, the Holy Spirit is gently whispering, "You can do this. I will give you strength. It's not about how many stairs there are. It's about going up these stairs together with Me leading the way. I will never let you fall."
Like the stairs at this University, I firmly see how DBU is an iron that sharpens me. DBU and the truly genuine community challenge me through encouragement and accountability. DBU provides me with opportunities to rise up and grab hold of the calling God has on my life with both hands. This school not only makes me a stronger student but also an empowered follower of Christ and leader for those around me!
With Christ at the center of everything, I get to be a loud and passionate believer in my classes or in my research papers. I even have opportunities to grow as the worship or Spring Sing chair in my sorority, Zeta Chi, or as a member on the Chapel Worship Team. I have found a haven where I can thrive, learn, grow, and lead for Christ. Every class, every paper, every song, every conversation, every little (though not insignificant) thing is a step.
A step toward the higher calling that the Lord has on my life. I choose to take them. I will take the stairs every day, and I will not take them for granted.
Written by Tori Corbo
Tori Corbo is a Senior at DBU.