Student Spotlight: Luke Schlenker
February 27, 2018
Written by Luke Schlenker
The Center for Business as Mission primarily focuses on how for-profit businesses can impact lives, families, communities, and nations with the good news of Jesus in holistic ways. However, we also recognize the important role that churches, mission organizations and non-profits play in the restoration of God's creation. Work that produces the most fruit occurs when both types of organizations play their unique role in a synergistic way.
"We are confident that he will approach his work with a passion for justice and mercy and a commitment to excellence that reflects the character of God."
Non-profit organizations rely on strategy development and execution; management of people, processes and money; and promotion of the organization among donors, volunteers and others. These are skills that can be developed through business classes, and Luke Schlenker provides a great example of how students are utilizing their skills for mission.
Luke is a senior from Albuquerque, New Mexico, studying entrepreneurship at Dallas Baptist University.
For ten years, Luke and his family have worked alongside a non-profit organization in Ecuador called the Elohim Foundation. Elohim works to improve the development of the country's youth by carrying out a variety of ministries with the support of sponsors and volunteers. These ministries include feeding, educating, and discipling children of all ages in underprivileged areas. The goal is to break the cycle of poverty and hopelessness to which they are accustomed. Luke's deep-felt compassion for the disadvantaged stems from the influence of his grandfather, a tax attorney in New Mexico, who demonstrates a commitment to human rights and to using his position to bless others.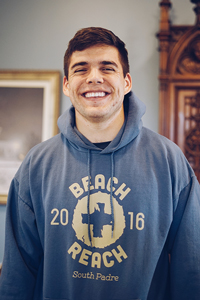 For the past few years, Luke has enlisted, trained, and led groups of college students on mission trips to Ecuador to serve in remote villages through the Elohim Foundation. Students joining together from universities such as UNT, Criswell College, and DBU, served in the villages through relational ministry and physical work in the jungle. Whether it is Vacation Bible School, leading church services, planting trees, or building projects, these college students aim to share the love of Christ with the people of Ecuador in all they do.
Luke states that his business classes have equipped him to carry out this work by providing him with a new perspective on how to assess the large problems and develop solutions. He recognizes the vital role of financial development and believes that his courses, work and experience at DBU have prepared him with the soft skills necessary to confidently connect with people about those needs. He has learned how to think creatively about alternative ways to raise funding through possible business developments among the remote communities that Elohim serves.
Whether Luke continues to work in the non-profit sector or moves into a for- profit environment, we are confident that he will approach his work with a passion for justice and mercy and a commitment to excellence that reflects the character of God.
---
About Business as Mission
The mission of the Center for Business as Mission at Dallas Baptist University is to educate and equip current and future business leaders to restore lives through effective engagement in the business marketplaces. This is accomplished by integrating God's biblical call to mission with His vocational call to business.
Written by Luke Schlenker
Luke Schlenker is a current DBU student.