#DBUResponds Sends Group to Houston
September 13, 2017
Written by Courtney Hackett
Photos by: Taggert Corn
Dallas, TX – On Friday afternoon, well over 100 DBU students, faculty, and staff left the Dallas Baptist University campus to head down to Houston to be the hands and feet of Jesus.  Following the wide-spread devastation that Hurricane Harvey left in its wake, DBU initiated #DBUResponds to raise funds, supplies, and volunteers to aid in the relief and recovery efforts in South Texas. 
In addition to an initial amount of over $32,000 from 209 donors to aid students who were affected by the storm and sending hundreds of cases of water with the Texas Baptist Men organization, a student-led fundraiser was held on Thursday evening, put together by DBU Greek Life organizations. Raising more than $3,400, the event was a wonderful time of food, games, and live music, while also taking a few moments of prayer over those impacted by the storm and the team that would be sent out the following day.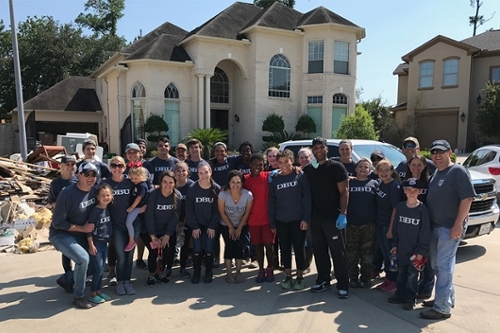 The team arrived at Frontier Camp to enjoy dinner, disaster relief training, and a time of worship before heading to bed to rest up for the day ahead. On Saturday, the headed on to Champion Forest Baptist Church in Houston, where they joined with relief teams to disperse into area neighborhoods. Serving at different area locations, the students moved furniture, ripped up flooring, tore down damaged dry wall, and cleaned houses in order to help them prepare to rebuild.
One particularly impactful experience was being able to partner with the family of DBU student Alysia Oldacre to begin the clean-up efforts needed for her family's home. 
"DBU helped my family get a week's worth of work done in just one day," shared Oldacre, "and I cannot express how much that meant to us. Serving alongside students, faculty, and staff made the cleaning process not only easier, but also fun. It was a great experience to see how God turned such a devastation into a beautiful opportunity for people to come together."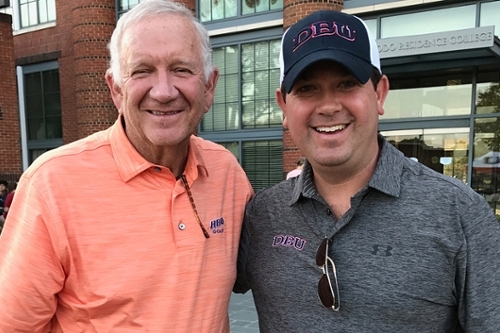 Unique to this trip was a time spent with students, faculty, and staff from Houston Baptist University following the day of serving. The two schools had the chance to fellowship with a cookout, worship, and a time of prayer. DBU President Dr. Adam C. Wright also took a moment to present HBU President Dr. Robert B. Sloan with a box filled with over 1,500 hand-written letters by DBU students to the HBU family. 
"It was an honor to be able to partner with so many wonderful people in the Houston area who are working day and night to help those impacted by the storm," stated Dr. Wright.  "Our prayers will continue to be with those families in Texas as well as in Florida as they attempt to rebuild their homes and restore their lives."
Written by Courtney Hackett
Courtney Hackett (Smith) served as the Assistant to the Vice President for Communications in the University Communications division at DBU.