God is at Work
May 31, 2017
Written by Dr. Ross O'Brien
God At Work In My Life.
I come from a missions family. My mom and dad both served overseas and worked closely with missionaries when they returned, so a significant portion of my life was spent in this missions context.
After college, I was invited to join the staff of Dallas Baptist University working in Student Affairs. During my time on campus, I developed a passion for college life but still felt called to overseas missions. After completing an MBA, my family moved to Indonesia for a year and a half to gain overseas experience. Contrary to what I had expected, at the end of our time, God seemed to be leading us back home rather than to long-term career service through a missions agency.
I began to pray through what my next steps would be, and as I did, I felt a unique pulling in two directions. On the one hand, I longed to help others through mission, and on the other, I sensed God leading me into a business context. I worked for AT&T as an account executive in business network sales and later launched a Web development business. Those were great learning experiences and helped me gain an insight into the ways business can be used for God's Kingdom. After eight years in those roles, God allowed me to return to the college setting and the chance to research, teach, and watch young lives transformed.
In 2002, I began teaching in the College of Business at DBU. Later in 2013, God allowed me to combine the experience and calling he had given in missions and in business by establishing the Center for Business as Mission within the College of Business.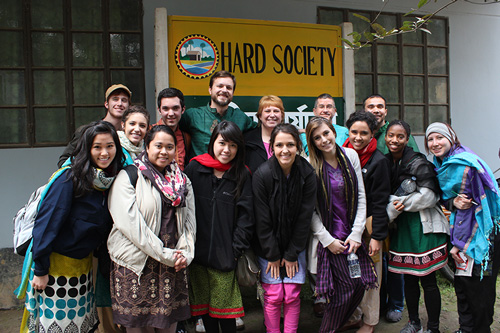 The Center seeks to educate and equip current and future business leaders to restore lives through effective engagement in the marketplaces of the world by integrating God's biblical call to mission with His vocational call to business. We accomplish this mission through various means, including undergraduate and graduate classes in business as mission (BAM); classes in social entrepreneurship; engagement in the local community; travel study classes to Sierra Leone, Bangladesh, Chile and Israel; guest speakers experienced in BAM; and hosting The Lion's Den DFW, a business plan competition for Kingdom-oriented businesses.
God At Work in Business.
Unfortunately, too many Christians in the business world believe they are an auxiliary to mission work. They think of themselves as providing means and finances, but they rarely view themselves as missionaries.
Jesus' commandments to serve others in Matthew 25 and to make disciples among all peoples in Matthew 28 were not directed solely to those employed by churches or mission agencies.
Incredibly, all followers of Jesus have the privilege and responsibility of serving God in these ways, and He has equipped each one of us with unique skills, abilities, interests, and gifts and has put us in a world in which we can work from our individual callings.
Some people he calls to business—to serve him in the marketplaces of the world. These men and women come in contact with and work alongside more individuals who are lost than many pastors or missionaries ever could. They have access to hurting and spiritually desperate individuals in countries closed to traditional missions. They have the opportunity to reflect God's glory in the products they make, the services they offer, the care they show, and the example they provide.
God At Work at DBU.
Through the Center, we want to show students and others outside of the University what it means to intentionally walk with God at work. One method of doing this work is to partner with organizations that share our philosophy.
For example, each semester we take students to a prison in Venus, Texas, to volunteer with Prison Entrepreneurship Program, a non-profit organization that serves carefully selected offenders through life training and business training programs. Through this life-changing program, men experience spiritual, emotional, relational, and mental growth. A part of this program involves volunteers from the community attending programs and providing ongoing support. I'm so proud of our DBU students as they demonstrate God's grace and love to these men. Bryan Kelley, Executive Relations Manager for PEP, agrees, stating "DBU students have embraced and empowered our prisoner population by modeling Matthew 25 and meeting them in the prison in which they reside, sharing hope and showing them a better way to live. Priceless."
Another group of students engage the local Dallas community through collaboration with H.I.S. BridgeBuilders, Bonton Honey, and Bonton Farms. H.I.S. Bridge Builders is an incredible ministry that works alongside residents of one of the economically poorest and physically least healthy communities in Dallas, all with the mission to see God's transforming work among individuals and families.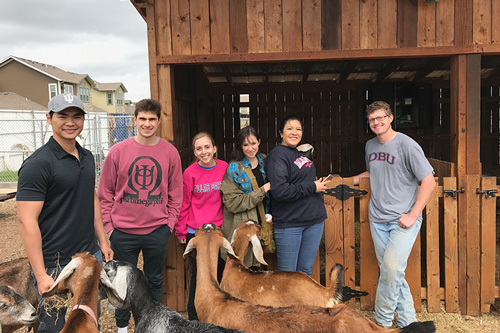 H.I.S. Bridge Builders addresses poverty in all its forms in this community, through spiritual discipleship, job training, and also through access to healthy foods at Bonton Farm. The community is a food desert, lacking access to healthy food. The Farm, now its own non-profit organization, grows a variety of vegetables, provides jobs, and teaches people about the importance of a healthy diet. DBU students volunteer at the Farm and in the community in a variety of ways. Some work at the Farm, pulling weeds, planting, and harvesting. Others have come alongside Bonton Honey to help develop a strategic business plan to help this innovative company launch.
Often we see the world through a secular/sacred divide, believing that God's work happens primarily through full-time church ministers. Yet, He has provided for us an incredible mission field right in the midst of the world of commerce. And the Lord of the harvest gives us the privilege of being co-laborers with Christ in the harvest fields, but He also has commanded it and will hold us accountable. With thanksgiving and humility, let us pray that we will all be found faithful to the call.
Written by Dr. Ross O'Brien
Dr. Ross O'Brien is an Associate Professor of Management in the College of Business at Dallas Baptist University, and the Director of the Center for Business as Mission, which educates and equips aspiring business leaders with the integration of God's calling to mission and business.