DBU Hosts Joni Eareckson Tada
May 1, 2017
Written by Courtney Hackett
Dallas, TX – DBU hosted Joni Eareckson Tada, Founder and CEO of Joni and Friends International Disability Center, on Monday, April 24. She shared with the DBU Family, speaking to the student body in chapel and the faculty and staff in a special luncheon that followed.
A diving accident in 1967 left Joni Eareckson, then 17, a quadriplegic and confined to a wheelchair. After two years of rehabilitation, she emerged with new skills and a fresh determination to help others in similar situations, and has since become an international advocate for people with disabilities.
Joni has served on the National Council on Disability and the Disability Advisory Committee to the U.S. State Department. She has helped guide evangelism strategies among people with disabilities worldwide as Senior Associate for Disability Concerns for the Lausanne Committee for World Evangelization. She has also received numerous awards and honors, including the Victory Award from the National Rehabilitation Hospital and the Golden Word Award from the International Bible Society and holds several honorary degrees.
A decorated author, speaker, and painter, Tada has also been hosting the short-feature radio program "Joni and Friends" since 1982, which is aired on more than 1,000 outlets. In 2012, the National Religious Broadcasters inducted Joni into its Hall of Fame. That same year, the Colson Center on Christian Worldview awarded Tada its prestigious "William Wilberforce Award" in 2012.
Joni spoke on the importance of embracing disability within the church, explaining how those with different perspectives bring a richness to the body of Christ. She went on to share a bit about her own personal experiences, specifically touching on the way her outlook has changed since her accident.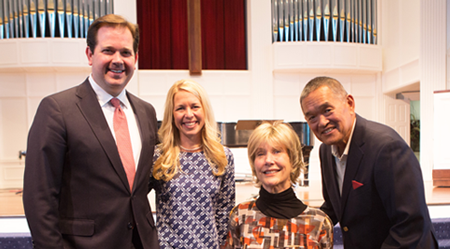 "I bless the disability, because it shows me my deep dependence on God," Joni shared. "I need Him desperately, and I do not know if I was on my feet if I would realize how urgently I require His strength. Perhaps the truly disabled are those who jump out of bed in the morning and give Jesus no more than a tip of the hat on the way out the door to another day set on cruise control."
"We were blessed to be able to hear from Joni Eareckson Tada," remarked DBU President Dr. Adam C. Wright. "This is a woman who has not grown weary in doing good, a woman who has not given up. I am amazed how the Lord continues to use her to touch the hearts and minds of so many people around the world."
Joni and her husband, Ken Tada, have been married since 1982.
Written by Courtney Hackett
Courtney Hackett (Smith) served as the Assistant to the Vice President for Communications in the University Communications division at DBU.