DBU Hosts Political Analyst Matthew Dowd for IGE Lecture Series
February 20, 2017
Written by Dr. Blake Killingsworth
Dallas, TX – The Institute for Global Engagement recently welcomed noted political analyst Matthew Dowd as the keynote speaker for the semi-annual Leadership Lecture Series. Dowd, a current ABC News political analyst, formerly served as the chief strategist for the Bush-Cheney 2004 presidential campaign. Dowd's remarks focused on the current political climate in America after the 2016 election. 
Over the past two years, the Leadership Lecture Series has brought a variety of influential Christian leaders to the DBU campus.  Dr. Jim Denison, co-founder of the Denison Forum on Truth and Culture and the Executive Director of the IGE, says that one of the strengths of this event is that it provides a "forum for world class leaders to come and share their specific insights on leadership and cultural engagement with the DBU community."
Throughout the evening's event, Dowd pointed to the need for leaders in America to bridge the growing political and social divide, which has grown even more divided in an age driven by social media and sound bites.  According to Dowd, "We are drowning in data but thirsty for wisdom."
Wisdom, Dowd suggests, comes from listening to others and finding the time to slow down, a practice that is all too rare in today's distracted environment. "Action," Dowd stated, "requires a foundation of reflection and contemplation." 
As he reflected on the need for a reframing of leadership, he suggested that what our country needs most is humble servant leaders who combine strength and humility with authenticity and accountability.  He encouraged the audience to "practice what we want our leaders to be like," noting that we can all have a profound effect on the direction of our country.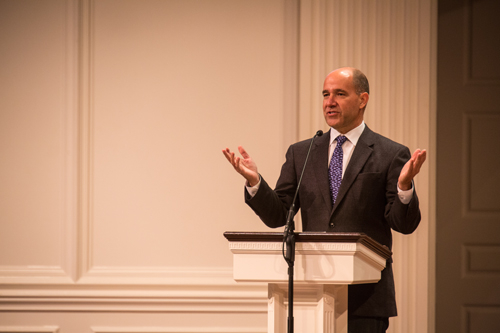 "I think we are at a point where truth has been questioned so much it becomes even more important, and we find ourselves at an incredibly significant moment in time," said Dowd. "Financial poverty receives much attention, and rightly so, but what often doesn't get addressed is the poverty of the soul. What's happening in our country is a hunger for change in a positive direction. We need to be in a place where people do what's in the best interest of the community, not just themselves."
Dowd's lecture was followed by a short Q & A with Dr. Denison, where he urged everyone to understand that they have been given a unique voice to meet the challenges that face our country, and it is their duty as citizens to use that voice.
"I am so pleased that we had the opportunity to host Matthew Dowd as a part of our Leadership Lecture Series," said Dr. Adam C. Wright, President of Dallas Baptist University and Co-Founder of the IGE. "Our goal through these events is to bring a wide-variety of cultural thought leaders to our campus who challenge us to think through many of the issues of the day.  Matthew was thought provoking and presented very challenging thoughts of the current political landscape." 
Founded in 2014, the Institute for Global Engagement is a partnership between Dallas Baptist University and the Denison Forum on Truth and Culture. The IGE seeks to bring together scholars and practitioners for thoughtful conversation with the desire to serve as a catalyst for moral and spiritual renewal.
Written by Dr. Blake Killingsworth
Dr. Blake Killingsworth is the Vice President for Communications at Dallas Baptist University.