DBU Students Serve at Home and Abroad During Spring Break 2016
March 1, 2016
Written by Courtney Hackett
While many students look forward to rest and relaxation during Spring Break, two teams of students from Dallas Baptist University used the week to serve others and share the Gospel of Jesus Christ.
Beach Reach - South Padre Island
For the fifth consecutive year, teams of DBU students loaded into vans and traveled to South Padre Island, where they ministered to college students through the Beach Reach program. Chris Holloway, Director of Global Missions at Dallas Baptist University, led the DBU students in sharing the love of Christ with spring breakers primarily through providing van rides and serving pancakes.
"Beach Reach pushed me to the limit like I have never been pushed before," explained Luke Schlenker, a freshman management major from Albuquerque, New Mexico. "Our team had to rely on Christ for strength to get through the week, but it was amazing to see how we, though absolutely exhausted, were having a better time than the students who were there to party. It was such evidence that the Lord satisfies unlike anything else."
"I was stretched to the point that I could do nothing but rely fully on Christ, physically, mentally, and spiritually," remarked Parker Lansford, a sophomore management major from Morrison, Oklahoma. "Time and time again, I saw the faithfulness of the Lord in how He sustained my every need and the needs of our team. Without fail, whenever I was feeling discouraged or at a loss for words, the Lord would speak through one of my teammates to bring me encouragement."
The DBU teams used the platform of providing rides around the island to share the Gospel with people their age who were spending their week in a very different way.
"My heart broke for the students who got on our van," recalled Schlenker, "because that easily could have been me had it not been for those who shared the Gospel with me earlier in life."
"Beach Reach was a challenging week that forced me to fully rely on the Lord," said Stephen Boyd, senior marketing and political science major from Henderson, Nevada, and student body president. "We made it our goal to share the Gospel with each person who set foot in our van, and we learned to rely on the Holy Spirit as He used us as vessels to share His message."
"I am thankful for Beach Reach and the overall culture of service that DBU cultivates," Boyd went on to say. "The fact that 81 students would give their Spring Break to serve in South Padre is reflective of the selfless, generous attitude that the DBU faculty has instilled in us as students. Beach Reach is just one example of seeing those convictions lived out in our community and world."
"Beach Reach has been such a blessing for us at DBU," Holloway explained. "It amazes me how the Lord rescues in the darkest of situations. Our students and staff who participate have a fire lit under them to share the Gospel not only in South Padre but also wherever they go. I cannot wait to see what the Lord will do on our campus and in our community from the lessons learned at Beach Reach!"
Habitat for Humanity - Colorado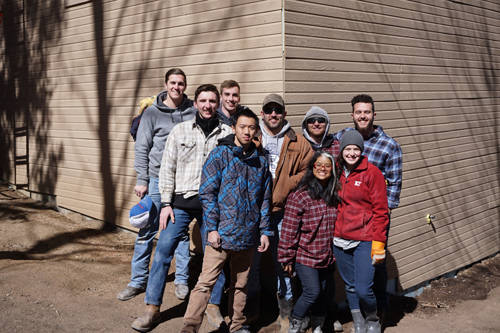 During the same time period, another team of DBU students traveled to Woodland Park, Colorado, where they served with Habitat for Humanity, helping with the construction of two different houses, as well as renovations in the Habitat office itself.
"God truly opened the door for this opportunity to serve, and it was incredible to see the fruits of our labor right before our eyes," said Becky Palacios, a junior broadcast communications major from Sulphur Springs, Texas. "I worked mostly on insulation and drywall, but it was so wonderful to work together with my fellow classmates. We were able to learn how to do most of the tasks together and figure out how to work as a team. Overall, it was wonderful to see what we were able to accomplish as a service to others and for the Lord."
The DBU team was challenged to give of themselves in service in ways that they may not experience on a day to day basis at home. Temperatures during the week were often below freezing, and the students worked fervently installing siding, insulation, and drywall for the two families' homes. A group of the students was also able to serve the Habitat organization in helping with their rebranding by painting new logos in the office, among other things.
"During the Habitat trip, God made it evident that serving others does not necessarily require extraordinary skill, but rather takes the willingness to sacrifice your time," noted Aubrey Wolsfeld, a junior finance major from Wheaton, Illinois. "I spent most of my time working in the Habitat office performing seemingly simple tasks such as reupholstering furniture and painting, but it was incredible to see how much it meant to the individuals we were serving."
"Habitat for Humanity has been one of the most defining and enjoyable parts of my DBU experience. It is a great example of practical ministry that meets people where they are and provides for some of their basic needs," explained Emory Cothen, a senior Biblical studies major from Beaumont, Texas, and a fourth-year participant of the Spring Break Habitat Trip. "This experience is a clear picture of what the Body of Christ should be doing giving their time and resources to others for the sake of the Gospel."
Written by Courtney Hackett
Courtney Hackett (Smith) served as the Assistant to the Vice President for Communications in the University Communications division at DBU.