DBU Board of Trustees Elects Dr. Gary Cook as Chancellor
February 18, 2015
Written by Dr. Blake Killingsworth
Dallas, TX - The Dallas Baptist University Board of Trustees announced today that they have elected Dr. Gary Cook as Chancellor of the University. Dr. Cook, who has served as President of the University for the last 27 years, will remain as President until the Board of Trustees elects a new president and the new president begins to serve.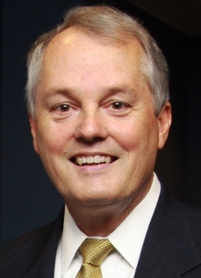 Dr. Cook will serve full-time as chancellor for 5 years. In this role, he will serve as goodwill ambassador for the University, particularly serving with alumni, donors, Christian international leaders, governmental leaders, ministers, and denominational leaders.
A presidential search committee will be appointed by the board of trustees.
Dr. Gary Cook has been President of Dallas Baptist University since April 1988. The University has grown from 1,859 students in the fall of 1987 to 5,445 in the fall of 2014. The University's net assets have grown from $19.9 million to $170 million, and the University has finished each fiscal year in the black for the last 25 years. The campus has expanded from 200 acres to 292 acres. Average SAT scores for incoming DBU freshmen have been raised from 887 in 1992 to 1124 in 2014. In addition, 80% of full-time faculty have doctorates or terminal degrees, compared to 52% in 1988. Another 9% of the full-time faculty are currently working on a terminal degree.
The number of master's degree programs have increased from three in 1988 to 25, while graduate enrollment has increased from 187 in the fall of 1987 to 1,988 in the fall of 2014.
A Ph.D. in Leadership Studies program began in the summer of 2005, and an Ed.D. in Educational Leadership program began in the fall of 2005.
Written by Dr. Blake Killingsworth
Dr. Blake Killingsworth is the Vice President for Communications at Dallas Baptist University.