Professor Bernie Spooner Serves as Editor for Christian Leadership Book
December 18, 2012
Written by Kalie Lowrie
Dallas, TX – Dr. Bernie Spooner, Associate Dean of the Gary Cook Graduate School of Leadership at Dallas Baptist University and Professor of Christian Education, served as the general editor for a new book, Christian Education Leadership: Making Disciples in the 21st Century Church.
Dr. Spooner served as the head of the Sunday School Department at the Baptist General Convention of Texas for many years and has been a leader in Christian education for decades.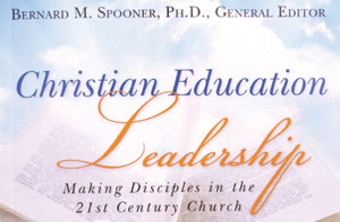 He began this new work in order to fill what he sensed was a void of texts that provide an up-to-date and comprehensive understanding of the basis of Christian education in the church as well as the practical means to ensure that the church fulfills its mission of education. Serving as general editor for the work, Dr. Spooner enlisted the help of 22 authors, many of whom are DBU full-time and adjunct professors.
DBU professors contributing to the books include: Dr. Jim Denison, Adjunct Professor and President of the Denison Forum on Truth and Culture; Dr. Jeremy Dutschke, acting Associate Dean and Director of the Ph.D. in Leadership Studies Program; Dr. Bob Garrett, Piper Chair of Missions and Director of the M.A. in Global Leadership; Dr. Rick Gregory, Adjunct Professor and former Vice President and Dean of the Graduate School of Leadership; Dr. Jim Lemons, Assistant Professor of Biblical Studies and Leadership, Director of the M.A. in Worship Leadership; Dr. Judy Morris, Associate Professor of Christian Education and Director of the M.A. in Christian Education; Dr. Royce Rose, Professor of Educational Leadership, Coordinator of Doctoral Ministry Programs; Dr. Tommy Sanders, Associate Professor of Christian Education, Leadership, and Research and Director of the M.A. in Childhood Ministry and Family Ministry Programs; and Dr. Dwayne Ulmer, Assistant Professor of Student Ministry and Leadership and Director of the M.A. in Student Ministry Program.
The book may be purchased as a digital text through Amazon.com or as a paper copy through the DBU Patriot Store.
Written by Kalie Lowrie
Kalie Lowrie was the former Director of News and Information at Dallas Baptist University.