DBU Honors Community Partners
July 16, 2012
Written by Kalie Lowrie
Pictured (l to r): Dr. Gail Linam, DBU provost; Ken Shields and Victoria Jones representing CC Young; Sean Mann representing Bethesda Young Life; Andrew Briscoe, DBU director of service-learning; Dr. Nancy McLaughlin, chair of the DBU Service-Learning Committee.
Dallas Baptist University hosted the annual Community Partners Appreciation Luncheon on Thursday, July 12. Two partners were honored this year for their significant contribution to the service-learning program at DBU. CC Young was recognized as the Community Partner of the Year for Curriculum, and Bethesda Young Life was honored as the Community Partner of the Year for Co-Curriculum.
DBU partners with many community ministries each year to provide service opportunities for students. This annual luncheon is held to recognize the ministries that work diligently with students to provide meaningful learning experiences.
Dr. Gail Linam, DBU provost, shared during the luncheon about the importance of community partners in allowing DBU students to expand their education beyond the classroom. "What DBU students learn in the classroom springs to life as they learn to serve those in need through your ministries," she expressed.
Andrew Briscoe, Director of the Center for Service-Learning at DBU, also expressed gratitude for all of the community partners present. He encouraged them to network with faculty and staff members in attendance to find ways to connect students with ministries through service-learning programs.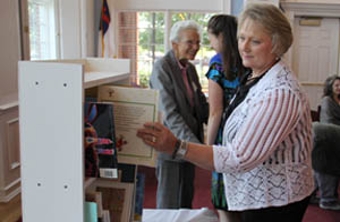 DBU has partnered with the CC Young retirement community for many years as students have volunteered service hours working with the residents. CC Young was recognized this year for their excellent assistance in working with the DBU faculty to provide academically enriching experiences for the students as they volunteer at the facility. Dr. Nancy McLaughlin, assistant professor of education in the Gary Cook Graduate School of Leadership and chair of the Service-Learning Committee, presented the award.
Bethesda Young Life is an organization that works with students with disabilities in the Dallas area. Last year, 14 students from DBU served as leaders with this group, providing guidance and encouragement to students in this club. DBU recognized Bethesda Young Life for their assistance with co-curricular service activities for the University's students. Jay Harley, DBU's dean of students and spiritual life, presented the award during the luncheon.
During the luncheon, attendees also helped construct four bookshelves to be donated to Literacy Connexus. The bookshelves will be sent to the border of Texas to aid in literacy programs. Attendees also wrote encouraging messages in children's books and placed them on the newly-constructed shelves to be donated.
Written by Kalie Lowrie
Kalie Lowrie was the former Director of News and Information at Dallas Baptist University.