DBU-Oak Cliff Dinner Honors DFW National Cemetery and Dr. Dan Griffin
May 17, 2012
Written by Kalie Lowrie
The 2012 Good Samaritan Award was presented to the DFW National Cemetery. Accepting the award on behalf of the cemetery, pictured (left to right) Bruce Boyea, cemetery representative; Ron Pemberton, director; Melvin Carson, foreman; Mike Mattiza, work leader; and Roy Martin, cemetery representative.
Dallas Baptist University hosted the 24th Annual DBU-Oak Cliff Partnership Dinner on May 8, 2012, on the DBU campus. During the dinner, the 2012 Good Samaritan Awards presented to the DFW National Cemetery and Dr. Dan Griffin, pastor emeritus and minister of outreach at Cliff Temple Baptist Church.
Dr. Brent McDougal, the pastor of Cliff Temple Baptist Church, is serving as the chair of the dinner, which will be held in the John G. Mahler Student Center. All proceeds from the dinner will provide scholarships for students from Oak Cliff who are attending DBU.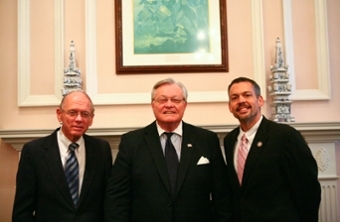 The DFW National Cemetery provides a local and honorable burial location for more than 32,000 late veterans and dependents who have graciously dedicated their lives in service to the United States of America. The DFW National Cemetery serves approximately 460,000 veterans that reside specifically in the Oak Cliff and surrounding area.
Dr. Griffin has been a long-time advocate and community leader in Oak Cliff, having served as senior pastor at Cliff Temple Baptist Church from 1979-1989. He earned the Doctor of Ministry degree from Southern Baptist Theological Seminary and received an honorary Doctor of Humanities degree from DBU, where he serves as an adjunct professor.
Written by Kalie Lowrie
Kalie Lowrie was the former Director of News and Information at Dallas Baptist University.