DBU Students Serve Community on MLK Jr. Day
January 18, 2012
Written by Kalie Lowrie
DBU swim team members Rebecca Steele (left) and Amy Brewer (right) pose with National Give Back Day Hero John Darjean (center) and several children that they worked with on Martin Luther King, Jr. Day.
More than 75 students at Dallas Baptist University spread out around the community to serve their neighbors on Martin Luther King, Jr. Day, in honor of the civil rights activist who taught about the importance of volunteerism and making a positive impact on communities.
The DBU teams, each comprised of student-athletes, volunteered at four locations across the metroplex.
The volleyball team had the great opportunity to partner with Cornerstone Baptist Church in Dallas. Head Women's Volleyball Coach, Cathy Kokel, shared, "MLK service day was a great way to start off the spring semester and serve our Lord. We were able to smile and love on many underprivileged and homeless people at the MLK Day Parade. Some of us picked up trash around the church and MLK Day Parade, while others served food to the masses. We served over two thousand bowls of chili and pastries. It was a precious and humbling experience to me and my team."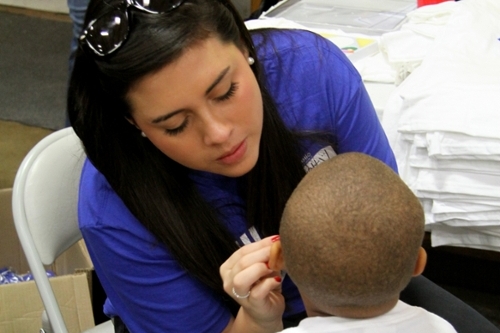 Four members of the DBU swim team joined with the Dallas Baseball Alliance (DBA) for the 4th Annual All-State Give Back Day at the Thurgood Marshall Recreation Center. During the day, the student-athletes painted faces, played basketball and baseball, and even hula-hooped with neighborhood children who were out of school for the day. They worked with this year's National All-State Give Back Day Hero, John Darjean, a former professional baseball player, and other volunteers.
"I enjoyed seeing the kids' faces light up when they learned a new skill," said sophomore Amy Brewer.
Playing with foster children from the ACH Child and Family Services, as well as other children from the DBA and Recreation Center was a great treat for the DBU students.
Across town, 18 players from the men's basketball team rolled up their sleeves and worked at Brother Bill's Helping Hand. The students spent the day stocking the food pantry, cleaning the facilities, raking leaves, and helping with other projects around the building. That afternoon, they were able to go to the new location of Brother Bill's, which will open later this year, and pick up trash and then pray over the facilities that will provide much-needed services and ministries to the area neighbors.
The track team spent their day serving with Mission Arlington at an apartment complex in the area. They helped with various projects around the complex, ranging from cleaning out several vacant apartments to digging holes for a water pipe.
"It's not always easy," said junior Jesse Benes as he was covered in mud after digging for pipes, "but it was great working together to serve the community."
The students were an embodiment of servant leadership as they met the needs of those in their community.
Written by Kalie Lowrie
Kalie Lowrie was the former Director of News and Information at Dallas Baptist University.