Three DBU Students Named to Texas Business Hall of Fame
September 6, 2023
Written by Dallas Baptist University
This year, the Mitchell Family Foundation scholarship award was given to three DBU students who were named to the Texas Business Hall of Fame for their emerging leadership as business innovators. 
Ritesh Rana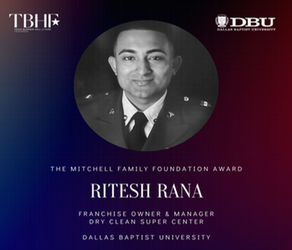 Born and raised in Nepal, Ritesh moved to the United States at 18 years old to pursue higher education. After receiving his associate's degree, Ritesh enlisted in the US Army combat medic and did a tour in Iraq. After his active duty, Ritesh joined the US Army Reserves working as an Information Technology and Supply Chain Specialist. During this time, Ritesh also decided to start his own business. Ritesh is a Dry Clean Super Center franchise owner. He has four locations in the DFW metroplex, overseeing daily business operations. Ritesh is currently pursuing a master's degree at DBU.
Zak Kos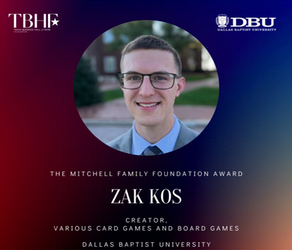 Zak Kos is currently a sophomore at DBU. However, his entrepreneurial and academic journey began before college as Zak developed numerous business ideas. From an early age, he aspired to be an entrepreneur seeking to revolutionize and empower. To date, he has released three card games and a board game while working on various other projects. During high school, Zak competed in Stoa, a Christian homeschool speech and debate league, where he placed fourth overall in the nation his senior year. Since then, he has sought to use his communication skills to empower the next generation of youth and young adults. More recently, his endeavors include contributing to DBU's University Honors Program as a panelist speaker and developing a resource for church youth groups.
Gavin Duke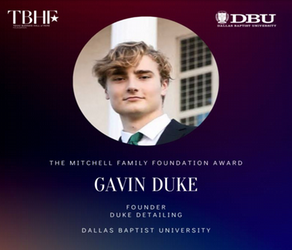 Gavin is an incoming senior at Dallas Baptist University studying Marketing and pursuing a degree in Business Administration. Gavin is the Founder of Duke Detailing. Founded in 2022, Duke Detailing provides professional, affordable, and convenient car care for everyone in the DFW area. Gavin, who learned how to detail cars in high school when he got his first car, has spent the past year building his startup and overseeing all primary operations, including detailing, marketing, and finance. Gavin is very active on DBU's campus. He has held leadership positions in his fraternity, including Marketing Chair. Gavin also works part-time on campus in the financial aid office, allowing him to hone his finance and customer service skills.
---
The Texas Business Hall of Fame Foundation was created in 1982 by a small group of Texas businessmen and women to focus awareness on the positive achievements made by outstanding business leaders and to honor their contributions to their community and state.  In addition to recognizing six transformational business leaders each year, the Texas Business Hall of Fame Foundation awards forty $15,000 prizes in both the higher education and veteran community to those who demonstrate exceptional entrepreneurial aspirations and excellence. For more information, visit texasbusiness.org.
(Photo Credit: Texas Business Hall of Fame)
---
About Dallas Baptist University
Dallas Baptist University seeks to provide Christ-centered education to prepare and spur on students to pursue their calling. As with any mission statement, it takes a team of dedicated workers to bring the vision of an organization to life. At DBU, our professors, faculty, and staff play an integral role in providing the holistic education promised within our mission statement.
Written by Dallas Baptist University