DBU Honors Dr. Sue Kavli as 2022 Piper Outstanding Professor of the Year
December 8, 2022
Written by Emmalie Ellis
Each year, Dallas Baptist University honors one professor who displays the heart of a servant leader both in and out of the classroom. This year, DBU is proud to recognize Dr. Sue Kavli as the 2022 Piper Outstanding Professor of the Year. Dr. Kavli has truly dedicated her life to Christ and continues to spread the love of her Savior through the way in which she teaches, serves, and loves her students and peers.
"Dr. Kavli serves the Lord and others in truly remarkable ways," says Dr. Gail Linam, a long-time friend of Dr. Kavli and former Academic Dean who now serves as Senior Advisor to the Provost. "Sue is dedicated to all that really matters in her commitment and service to a needy world. With her, love shared is love multiplied."
Prior to coming to DBU, Dr. Sue Kavli served alongside her husband of 43 years, Steve, fulfilling the Great Commission halfway across the world. Two years after getting married, Dr. Kavli and Steve were appointed by the Southern Baptist Foreign Mission Board (now known as the International Mission Board) to serve in Thailand. Sue's desire while serving was to help Thai women discover how they might develop a new avenue of financial support. With the help of a fellow missionary friend, Sue was able to lead the business efforts of Thai Country Trim, an indigenous women's ministry that sold handmade Christmas ornaments to strategic suppliers in the U.S. and beyond.
Sue skillfully coordinated the strategic systems for shipping to international distribution centers with proceeds from sales returning to the participating villages. This business model that Dr. Kavli spearheaded is still blessing creative Thai designers and continues to bring in much needed revenue for their families.
In addition to her business guidance, the Kavlis' tenure in Thailand also included a large emphasis on women's prison ministry. Sue was chosen by her team to carry the Good News of Christ inside of the strict, unreached walls of the prison. Their daughter, Rebecca, had mastered the Thai language and volunteered to sing and teach the female inmates songs about Jesus alongside her mother.
As the Kavlis faithfully served and obeyed the Lord, many women placed their trust in Jesus. Dr. Kavli was able to baptize new believers on the prison grounds in a water trough and watch as the lives of these women were transformed by the renewing power of the Gospel.
After the Lord called the Kavlis back to the States, Dr. Kavli served as the IT Director and Professor of Math and Computer Sciences at Brevard College in North Carolina. When her parents' health began to decline, Dr. Kavli and Steve moved to the Dallas metroplex and were drawn to University Hill. On August 8, 2005, our then-President Dr. Gary Cook invited Dr. Kavli to become part of the full-time faculty team. Now, in addition to her time spent in the classroom, Dr. Kavli also serves as the Associate Dean and Director of Research in the Cook Graduate School of Leadership.
"I, along with everyone in the CSL, marvel at all Dr. Kavli is capable of doing," says Dr. Jack Goodyear, Dean of the Cook School of Leadership. "Not only is she top notch in the knowledge of her field and an excellent professor, but she goes above and beyond what is required,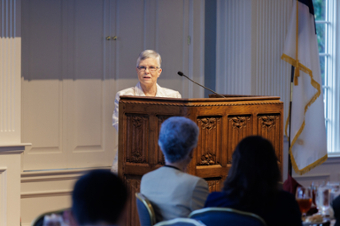 meeting with students whenever is best for them, demanding excellence while also offering encouragement. That combination of professor and minister, which seemingly comes so naturally for Dr. Kavli, serves as an inspiration for us all."
Dr. Kavli and Steve are active members of Matthew Road Baptist Church in Grand Prairie. Over the years, Dr. Kavli has helped lead various church and women's conferences, events, Bible studies, and outreach opportunities. Additionally, the Kavlis have spent every Thanksgiving Day for the last 10 years serving with Tillie Burgin and Mission Arlington. It is Dr. Kavli's responsibility to greet volunteers and organize the address assignments for the thousands of Thanksgiving meals that are delivered each year.
Together, Dr. Kavli and Steve have two daughters, Rebecca and Sarah. Dr. Kavli is a beloved wife, mom, grandmother, sister, aunt, cousin, and friend. Dr. Kavli's inspiring faith continues to spur both her students and fellow faculty and staff members onward to deeply pursue Christ. Dallas Baptist University is gracious to the Lord for blessing University Hill with Dr. Sue Kavli. DBU looks forward to all the ways Dr. Kavli will continue to impact the lives of those around her for the glory of Christ.
Written by Emmalie Ellis
Emmalie Ellis writes for the University Communications department at Dallas Baptist University.