DBU Hosts Commissioning Service for Texas Baptist Hunger Offering Specialist, Dr. Irene Gallegos ('12)
The BGCT Christian Life Commission has named Dr. Irene Gallegos, a 2012 graduate of DBU, to oversee the Texas Baptist Hunger Offering and Community Care Grants. In this role, she will provide strategic leadership of various funding opportunities that support ministries focusing on hunger relief, poverty alleviation, and community justice and development.
"I am especially excited about the opportunity to encourage employees and volunteers at these ministries to promote vicarious resilience and to keep serving their community with compassion and hope," said Dr. Gallegos. "We are grateful for the generous gifts from individuals and churches who give faithfully, and I pray we continue having generous donors who care about community transformation in Jesus' name."
Dr. Gallegos holds a Master of Public Health in Behavioral and Community Health from the University of North Texas Health Science Center and a Ph.D. in Health Studies from Texas Woman's University. She has served previously as a Health Coach and Advocate with UNT Health Science Center and as an Adjunct Assistant Professor at UT Arlington.
On September 18, the DBU campus hosted a special Commissioning Service for Dr. Gallegos. A time of personal testimony, words of encouragement, and corporate prayer was led by Rev. Sergio Ramos, church engagement officer at Buckner International and president-elect of the Convención Bautista Hispana de Texas.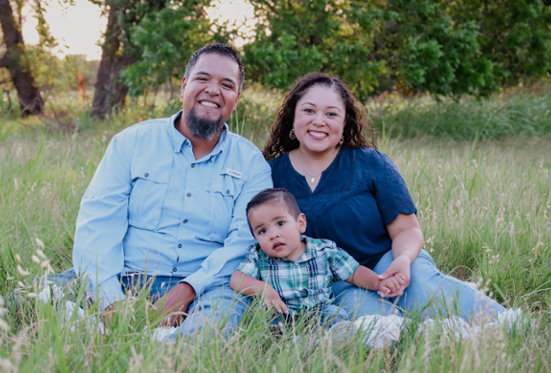 Dr. Gallegos met her husband, Esteban ('10), while attending DBU. They have one son, Caleb, and are active members of Iglesia Bautista Getsamini in Fort Worth.
"I am grateful for the servant leadership and spiritual transformation modeled at DBU, which was instrumental in developing my leadership style. My Biblical worldview leads me to trust in the Lord as Provider for all the ministries we connect with and to hope in Christ as community development is the ministry of reconciliation."
Written by Dr. Michael Whiting
Dr. Michael Whiting is the Director of Written Content in University Communications at Dallas Baptist University.