Remembering the Dream: The DBU Family Honors the Legacy of Dr. Martin Luther King, Jr.
February 4, 2020
Written by Dr. Michael Whiting
On January 20, in celebration of the birthday of Martin Luther King, Jr., DBU students and staff along with Pastor Chris Simmons and Cornerstone Baptist Church began the special day of remembrance by volunteering in service to others during the MLK Day Parade in Dallas. Sponsored by the Dr. William B. Dean Center for Service-Learning, the DBU special day of service provides students an opportunity to begin the spring semester in service to others – an essential aspect of life on University Hill.
After arriving, the group of volunteers dispersed to various stations in order to help serve food and drinks to the parade participants and spectators. DBU students had meaningful conversations and exemplified the love of Christ among those in attendance.
"As we celebrate the significant contribution of Dr. Martin Luther King, Jr., and reflect on the profound impact he had, we believe that there is no greater tribute we could give to honor his legacy than that of going out and serving others," said Desi Henk who serves at DBU as Assistant Vice President for the Center for Career and Professional Development.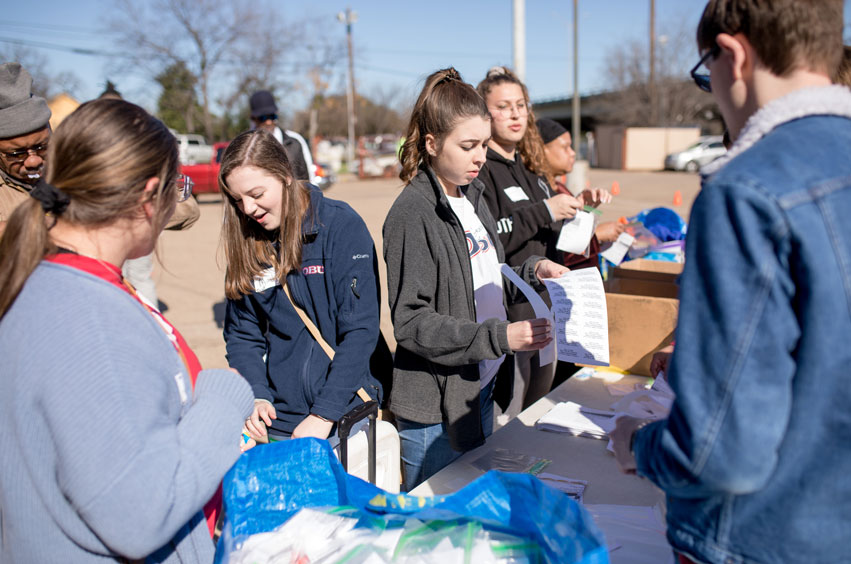 After a morning spent in service at the parade, students returned to campus to join with the rest of the DBU family for the 4th annual MLK Unity Walk. This special event, commemorating the legacy of Dr. King and his leadership in the movement for Civil Rights, began in front of the Collins Learning Center where Tempress Asagba, Dean of Students, shared an inspiring reflection. The group then made their way across the Quad to gather at the foot of the Cross that stands between the Mahler Student Center and Patty and Bo Pilgrim Chapel.
Gathered together and following remarks by Dr. Adam Wright, DBU President, time was spent together in worship and in prayers of unity for our nation and concluded with a recitation of Dr. King's "I Have a Dream" speech by Rev. Bertrain Bailey, senior pastor of St. John Baptist Church in Dallas and a DBU trustee.
"I look forward to this DBU community event every year," reflected Dr. Wright. "Our nation is in desperate need of unity, and I am thankful that University Hill shines as an example of the love of Christ that reaches across racial lines and unifies us in fellowship with one another as His one family."
Written by Dr. Michael Whiting
Dr. Michael Whiting is the Director of Written Content in University Communications at Dallas Baptist University.