Mr. Big Chief Through the Years
This evening will mark DBU's 38th annual Mr. Big Chief talent show. In this all-male competition, contestants compete in three categories, swimwear, talent, and formalwear, as they set their sights on the coveted title of Mr. Big Chief! Campus has been buzzing in preparation for tonight's event, so as we get ready to see the 2018 contestants take the stage, let's take a quick trip down memory lane!
Notable Mr. Big Chief Moments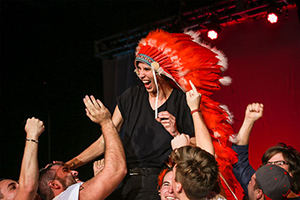 1981: Mr. Big Chief began with John Dombkowski being crowned as the first Mr. Big Chief.
1989: Anthony Turner was the first freshman to win the title, with very few freshmen competing in the history of the event.
2012: David Reyes, Director of Student Life, starred in the Big Chief performance of the Wizard of Oz as Courage the Cowardly Lion.
2016: Champion Reid Towns won without saying a single word in his entire performance.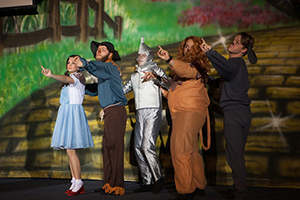 In more recent years, the production element of Mr. Big Chief has taken a huge leap, with the show itself acting as a play that interweaves itself into the contestants' performances. Recent show themes have included Beauty and the Beast, the Wizard of Oz, Inside Out, Harry Potter, and Alice in Wonderland.
2017 winner Zac Funderburk will take the stage this evening in search of a worthy recipient of the famous Mr. Big Chief headdress. The 2018 show is titled Big Chief in La La Land, and the word on the street after Wednesday night's final dress rehearsal is that this year is going to be the best show yet!
Former Mr. Big Chiefs
2017: Zac Funderburk
2016: Reid Towns
2015: Jordan Gregory
2014: Austin Pradon
2013: Joe Merruci
Written by Courtney Smith
Courtney Smith is a freelance content writer for University Communications at Dallas Baptist University.