DBU Celebrates the Life of Billy Graham
February 21, 2018
Written by Dr. Blake Killingsworth
Dr. Billy Graham, along with then-pastor of Park Cities Baptist Church and former trustee, Dr. James Pleitz, at the commencement service held on the DBU campus in March of 1985. (Photo Courtesy DBU)
Dallas, TX – Along with many around the world, DBU celebrates the life of one of the most influential Christian leaders of the last 100 years, Dr. Billy Graham. His tireless effort to spread the message of hope through the Gospel of Jesus Christ not only transformed the lives of millions of people around the world, but also continues to serve as an example for others to follow for years to come.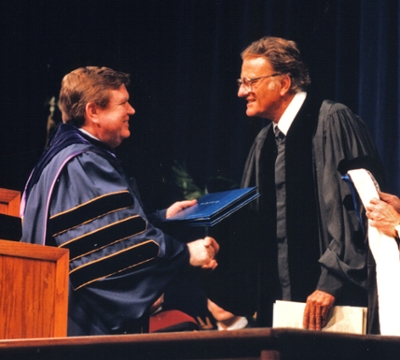 In 1985, the year Dallas Baptist College achieved university status, the school's name officially changed to Dallas Baptist University, and DBU presented its first honorary doctorate to Dr. Billy Graham during a special ceremony held on the DBU campus. Over the years, DBU has partnered with the Billy Graham Evangelistic Association for outreach events and various other Christ-centered efforts.
"While we are sad that Dr. Graham is no longer with us, we rejoice that he is with Jesus," shared Dr. Adam C. Wright, DBU President. "Few other men have run the race like Billy Graham, always hopeful and always pointing to Jesus. What a wonderful testimony to a life well lived."
Written by Dr. Blake Killingsworth
Dr. Blake Killingsworth is the Vice President for Communications at Dallas Baptist University.