Dallas Baptist University Honors Dr. King through Annual MLK Day Unity Walk
January 16, 2018
Written by Courtney Smith
Members of the DBU Family joined together to cross campus as a part of the second annual MLK Day Unity Walk. Photos by: Ryan Crisman.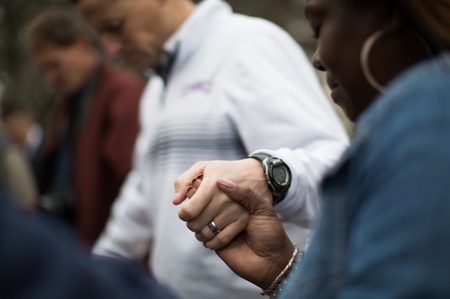 Dallas, TX – In remembrance of all that Dr. Martin Luther King, Jr. accomplished in his lifetime and in celebration of the unity found in Christ, the DBU Family gathered Monday afternoon for their second annual MLK Day Unity Walk.
Starting at the Collins Learning Center on the DBU campus, Dr. Jay Harley, Vice President for Student Affairs, shared with those gathered about the heartbreaking reality that division has always existed since the Fall of man, pointing to the early church as one key example. Yet, Dr. Harley went on to explain the beautiful picture of unity that Christ brings – that salvation was available not just to the Jew, but also to the Gentile. In the Kingdom of God, all have access to His grace and mercy, and the DBU students, faculty, staff, and guests celebrated and proclaimed that truth during the walk.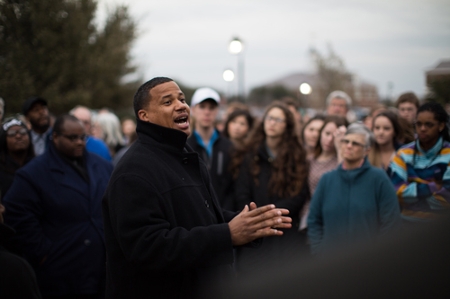 From there, the group continued to the Cross that stands between the Mahler Student Center and Patty and Bo Pilgrim Chapel. After words from Dr. Adam C. Wright, DBU President, the DBU Gospel Choir, led by student Tamerick Brazzell, sang "Lift Every Voice and Sing," originally written as a poem by James Weldon Johnson and later set to music by his brother, John.
Following in the tradition established at last year's walk, the event concluded with a moving recitation of Dr. King's "I Have A Dream" speech, delivered by Reverend Bertrain Bailey, Pastor at St. John's Missionary Baptist Church in Dallas and member of the DBU Board of Trustees.
Reverend Bailey then closed with a heartfelt prayer, inviting everyone gathered to join hands which painted a beautiful picture of unity as the event came to an end.
Written by Courtney Smith
Courtney Smith is a freelance content writer for University Communications at Dallas Baptist University.