DBU Night at Globe Life Park
October 3, 2017
Written by Jillian Dodderer
Dallas, TX – Dallas Baptist University partnered up with the Texas Rangers Baseball Organization to host "DBU Night at Global Life Park" in Arlington on Monday, September 25, as a part of the Rangers' University Days program. Patriot fans donned their familiar red and blue and headed out to Arlington, where the first 1,000 to purchase their tickets received a limited-edition DBU-themed Texas Ranger hat.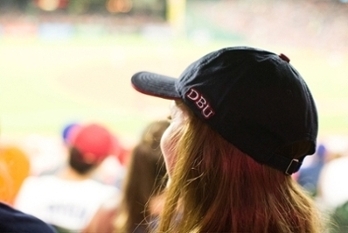 The first pitch was thrown at 7:05 p.m. by the 2016 Missouri Valley Conference Coach of the Year and DBU Baseball's Head Coach, Dan Heefner. The Rangers took on the Houston Astros in the first night of a three-game series. Students, faculty, and fellow Patriot fans enjoyed an evening of big league action at the ballpark, as well as fellowship with one another as they showed their support for DBU and the Texas Rangers. Although the Rangers fell to the Astros, it was an exciting game and memorable event for the DBU family. 
Written by Jillian Dodderer
Jillian Dodderer is the Assistant Director of Student Recruitment for Undergraduate Admissions at Dallas Baptist University.