Dr. Mike Williams Steps Down after 10 Years as Editor of Texas Baptist History
April 28, 2017
Written by Dr. Blake Killingsworth
Dr. Mike Williams, Professor of History at DBU, recently announced that he is stepping down as editor of Texas Baptist History, the journal of the Texas Baptist Historical Society.
Williams began this role in 2007, after the officers of the Texas Baptist Historical Society selected DBU to assume publication of the journal. At the time, the journal had been about 7 years behind in production, and Dr. Williams, along with the help of Alan Lefever and Naomi Taplin, Director and Associate Director of the Texas Baptist Historical Collection, led the way to bring the journal up to date.
Over the years, a variety of historical topics have been explored in the journal, covering stories that crossed the state and helped to define what it means to be a Texas Baptist. Dr. Williams was also helped by other members of the DBU faculty who served in various official and unofficial roles with the journal, as well as the leadership of Dr. Gary Cook, DBU Chancellor, who helped to secure DBU's role as publisher for the journal and provided financial support to produce many issues, and Dr. Adam C. Wright, current DBU President, who continued DBU's support for Texas Baptist History.
Dr. Williams has been a part of the full-time DBU faculty since 1995, serving for 15 years as Dean of the College of Humanities and Social Sciences at DBU. He has twice been named DBU Professor of the Year (1999-2000, 2012-2013), and the Baptist History and Heritage Society presented him with the Meritorious Service Award in 2006 and the W. O. Carver Distinguished Service Award in 2013.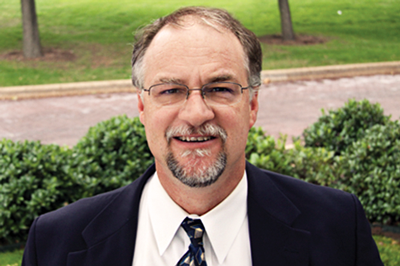 He is the author of many articles and four books: I. T. Tichenor and the Creation of a Baptist New South (2005, University of Alabama Press); To God Be The Glory: The Centennial History of Dallas Baptist University, 1898-1998; Witnesses to the Baptist Heritage: Thirty Baptists Every Christian Should Know (2016, Mercer University Press) and Victory Through Faith: A History of the Rosen Heights Baptist Church. He also co-authored with Dr. Edward Spann Presidential Praise: Our Presidents and Their Hymns (2008, Mercer University Press) and co-edited with Walter B. Shurden Turning Points in Baptist History (2008, Mercer University Press).
"We are most appreciative for Dr. Williams dedication to preserve Baptist history through his work on the Texas Baptist History journal," shared Dr. Adam Wright. "The DBU Family continues to be grateful for his service as one of our DBU professors."
Dr. Williams and his wife, Robbie, have three sons, Michael, a 2015 graduate of DBU, and Josh and Carey, both of whom currently attend DBU. They live in Aledo, Texas, and are members of the First Baptist Church of Willow Park.
Written by Dr. Blake Killingsworth
Dr. Blake Killingsworth is the Vice President for Communications at Dallas Baptist University.