DBU Launches Ministry Connect
March 31, 2017
Written by Courtney Hackett
Dallas, TX – The inaugural DBU Ministry Connect was launched on Saturday, March 25, in Pilgrim Chapel on the DBU campus. This new initiative of the Graduate School of Ministry seeks to provide high impact training for church leaders.
Dr. Henry Deneen served as Saturday's keynote speaker, sharing on emotional intelligence in conjunction with the topic for the workshop, "Leading with Emotional Intelligence: Making Strong Connections with People and Motivating Them to Serve Others."
Dr. Deneen currently serves as the Executive Director of the Center for Global Strategies, an organization which seeks to bring people across the world into the global economy by connecting them with experienced professionals and coaches to establish cross-cultural ties of friendship, investment, trade, peace, understanding, and exchange of ideas.
From 2007-2015, Dr. Deneen served as President of Greater Europe Mission, overseeing the activities of more than 300 missionaries serving in 33 countries and helping to connect local churches with short-term mission opportunities throughout the world.
Following Dr. Deneen's sessions, the Graduate School of Ministry faculty along with current Ph.D. student, Cicely Jefferson, led in breakout sessions exploring the subject of Emotional Intelligence and various topics including the Worship Leader, Soft Skills, The Millennials, Small Group Leadership, Emotional Heath, and Cultural Intelligence.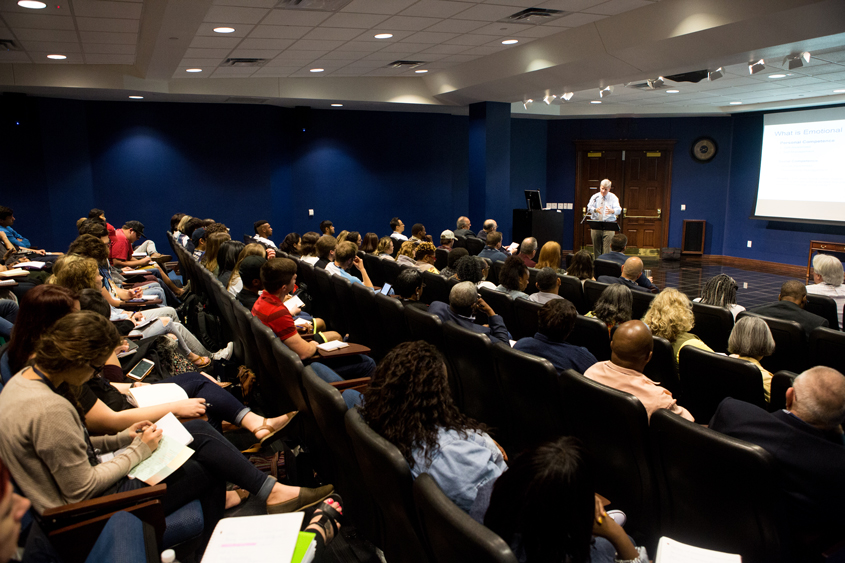 The capacity crowd concluded the day at a luncheon which provided a time of interactive conversation with Dr. Deneen. This new initiative of the GSOM seeks to partner with Dr. Adam Wright's, DBU President, vision of DBU being a "Kingdom Resource", further equipping God's people for His work.
"What a privilege to host the first DBU Ministry Connect," shared Dr. Bob Brooks, Dean of the Graduate School of Ministry. "It was a great day to witness the interactive learning sessions concerning Emotional Intelligence among our church leaders, lay leaders, and DBU faculty and students. We anticipate a great future for this annual event in partnering with our church leadership faculty and students in advancing practical essentials in ministry today."
The second annual Ministry Connect will take place on March 24, 2018, exploring the subject of Discipleship.
Written by Courtney Hackett
Courtney Hackett (Smith) served as the Assistant to the Vice President for Communications in the University Communications division at DBU.