DBU Dedicates New Sedwick Soccer Fieldhouse
September 15, 2014
Written by Graysen Reed
Dallas, TX - Dallas Baptist Women's Soccer Team is proud to call the Sedwick Soccer Field House their new home. The construction project, which started immediately following the completion of the 2013 season, was completed in time for the season opener on September 11, when the Women's Soccer Team hosted Colorado Mesa University came out with a victory of 2-0.
The newly constructed facility features 400 chair back seats and two covered patio decks. The interior of the Sedwick Soccer Field House includes a state-of-the-art press box, team meeting room, coaching offices, and a locker room that holds 30 customized wooden lockers.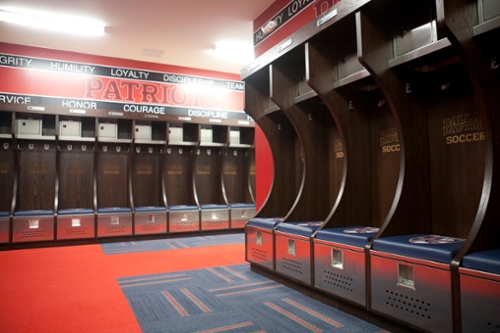 "We are excited for the 2014 soccer season with the addition of this magnificent facility to the DBU campus," DBU Athletic Director, Connor Smith, said. "The Sedwick Soccer Field House will provide new opportunities for our program and student-athletes as we continue our pursuit for NCAA Division II championship play."
Jay and Linda Sedwick generously gave the major lead gift to make this vision for a dedicated field house and new grandstands possible for the Patriot Soccer program. The Sedwicks are the grandparents of DBU outstanding soccer player Lea Sedwick and have provided these funds to advance DBU's NCAA intercollegiate soccer program this year and for many more years to come.
"Having a dedicated place for our soccer women to call home, where the girls can come for fellowship, Bible study, school work, or even quiet reflection will contribute to DBU's goal of transforming our athletes holistically, in mind, spirit, and body," DBU Executive Vice President, Dr. Blair Blackburn said.
"All of us who are a part of this program feel called to help develop servant leaders who will leave University Hill one day to impact others by what they learned at DBU. The Patriot Soccer Fieldhouse and Grandstands will be one more opportunity for God to work through our coaches and student-athletes and unite our team to impact the world for Christ."
Written by Graysen Reed
Graysen Reed (Cummings) is the former Coordinator of Visual Communications for University Communications at Dallas Baptist University.